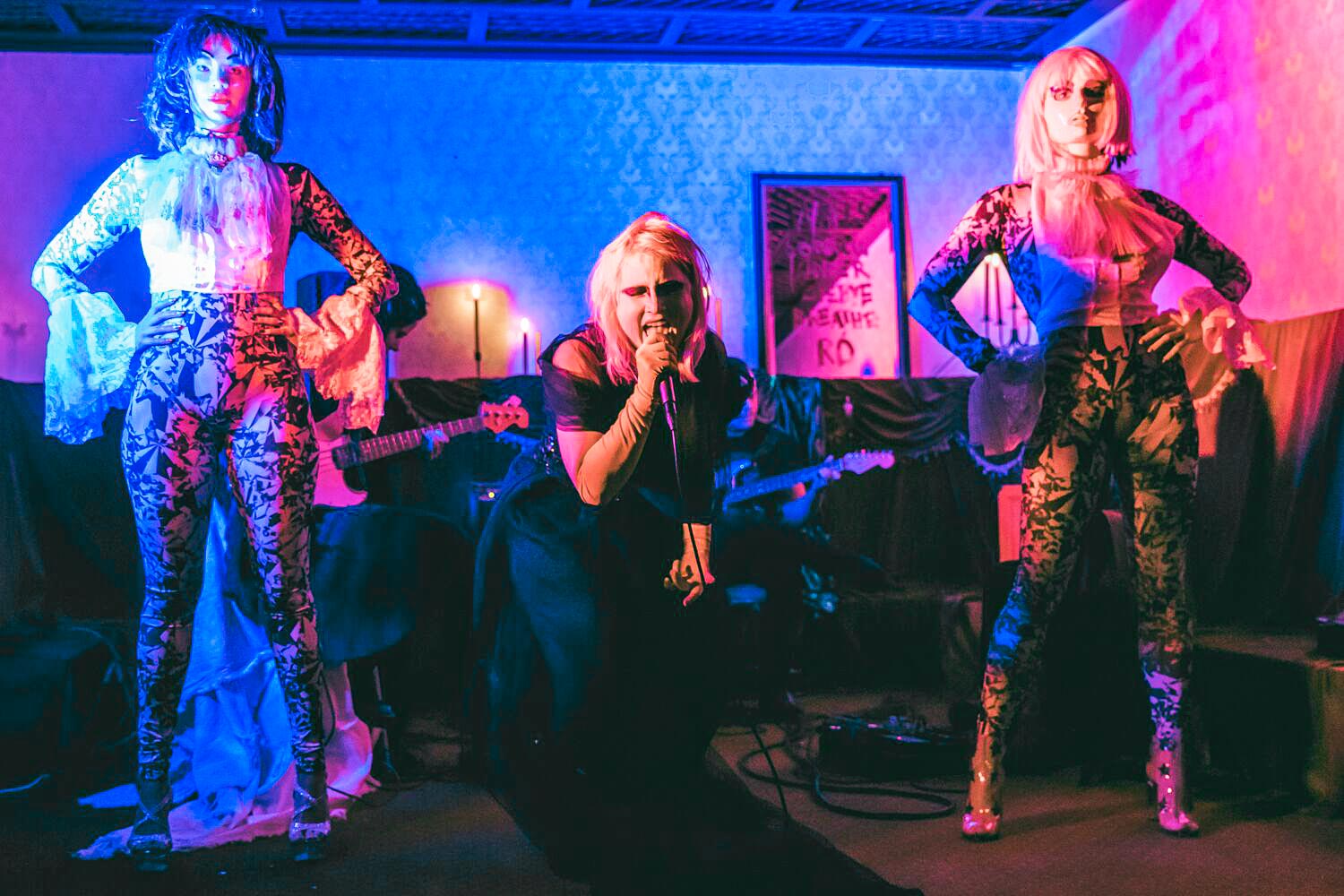 With the new year comes new music to uncover. This certainly rings true for the music scene in Iceland — a country that's small in numbers but big in sound. From fiery post-metal to melodic dream pop, here's our list of 20 Icelandic bands and solo artists to keep on your radar in 2020.
Ásgeir
Since 2013, Icelandic singer Ásgeir has been riding his way towards the international spotlight. With indie-folk acoustics woven together in a similar style to that of James Vincent McMorrow, Ásgeir's February release of Bury the Moon, his third studio album, has so far received positive reviews worldwide. Packed with folktronica tracks such as "Youth" and "Pictures," the album is already being touted as his best one yet.
CeaseTone
Founded by guitarist Hafsteinn Þráinsson — known for his involvement in bands such as Agent Fresco and Axel Flóvent — CeaseTone is famed for their energetic live performances and post-rock indie sound. After the 2016 release of CeaseTone's debut album Two Strangers, the band is back for the release of their sophomore album. Their most recent single "Egotopia'' suggests that the upcoming album will continue to deepen CeaseTone's identity as a powerhouse in Iceland's indie rock scene.
Daughters of Reykjavík
All-female rap collective Daughters of Reykjavík are back with a new cut from their upcoming album Soft Spot. Their latest track "Fool's Gold" is a mix of pop lyrical flow and a laid-back hip hop beat. The collective is known for having sharp political commentary on female empowerment within Iceland's male-dominated rap scene. Soft Spot is scheduled to drop in April 2020.
EinarIndra
EinarIndra is an artist known for stringing together smooth lofi-electro production and melodic, echoing vocals. His latest tracks "Not Completely Here" and "Dóttir" feature James Blake style electro-soul mixed with oozy synth undertones. It's safe to say EinarIndra's downtempo vibe is not like any other sound coming out of Iceland. Though the release date for his upcoming LP is still pending, his new singles are a sign that more music is on the way.
Elín Sif
With her break-out pop hit "Make You Feel Better" and a debut album ready to drop,  Elín Sif is about to make waves as Iceland's youngest singer-songwriter. The 19-year-old shot to stardom after placing third in the country's 2015 Eurovision competition, and later acted as a lead in the Icelandic film Let Me Fall. Now Elín Sif is on track to become one of Iceland's newest kids on the block.
Frid
After the successful release of 2019's EP If you listen…, Frid's ambient vocals and powerful live performances continue to move her audiences. With the recent release of her song "I Won't" and an upcoming performance slated for Secret Solstice 2020, the electro-pop artist doesn't show any signs of slowing down.
GusGus
With over ten studio albums under their belt, it comes as no surprise that GusGus has established themselves as Iceland's number one electronica group. Now the duo remains stronger than ever as they prepare to bring us their best album yet. Their latest venture will lean towards rock-influenced electronica, leading us to believe that GusGus continues to reinvent themselves even after 25 years in the game.
Hildur
Hildur is a female singer from Iceland who launched to fame after winning Iceland's version of Pop Idol. Since then, the quirky singer has continued to carve out a name for herself in the country's world of pop. In 2019 Hildur dropped Intuition, a five-song EP spreading positive messages of gender equality and female empowerment. Hildur has hinted on social media that she'll deliver more bubbly, thoughtful music for us to chew on this year.  For now, check out Hildur on "Monika," the latest hit by Icelandic music veteran Teitur Magnússon.
Hjaltalín
Hjaltalín is an Icelandic band whose dreamy sound and beautiful lyrics turned them into a household name. Their 2019 song "Baronnesse" is a gorgeous ballad filled with ghostly vocals and a synthesized backdrop. The band recently finished the recording of their next album, scheduled to be released this year. Defying the confines of any single genre, Hjaltalín's sound ranges from 60s pop to acid jazz.
JFDR
JFDR, the solo project of multi-instrumentalist Jófríður Ákadóttir, is back with the new track "My Work" after her acclaimed debut album Brazil. Her voice is best described as floating somewhere between the dynamic vocals of Joni Mitchell and of Icelandic music icon Björk. JFDR has already released two singles from her upcoming album New Dreams, which is scheduled to be released in March 2020.
Kælan Mikla
Post-punk trio Kælan Mikla returns with new music following the huge success of their 2018 album Nott eftir nott. The three women have been making waves with their synth-punk, darkwave sound in both Iceland and beyond. Set to support post-metal Parisien band Alcest during their 2020 European Tour, Kælan Mikla plans to give audiences a taste of new music currently in the works.
Mammút
After two years of silence, prog rock music once again verges towards the psychedelic thanks to Icelandic rock band Mammút. With the international success of Kinder Versions, Mammút is back with their fifth studio record. If the upcoming single "Forever on Your Mind" is a clue to the album's direction, it looks like Mammút is in for a guitar-heavy year.
Ólafur Arnalds
Known around the world for his genre-bending approach to classical and electronic composition, Ólafur Arnalds keeps moving instrumental music further into the mainstream. The artist's creative journey is one that constantly pushes against the boundaries of traditional classical music, making way for new, unique sounds to emerge. Though he just released a choir version of 2018's re:member, rumor has it that a new album could be on the way for 2020.
ROKKY
For an artist with only two tracks to her name, ROKKY has created quite the buzz as the next electronic artist to watch out for. Yet the Berlin-based artist's mysterious persona won't last long. ROKKY, heavily influenced by the French electro scene, is already on the path to becoming a break-out artist in 2020. Her first EP is set to be released soon.
SIGGY
SIGGY is an LA-based Icelandic artist fresh on the scene. The young talent attracted attention after her hit debut single "Never Did I." Stirring up feelings of R&B nostalgia, the soulful track shows that the singer-songwriter is ready to shake things up in the world of Icelandic music.
Sólstafir
Sólstafir is a post-metal Icelandic band that's been active for over 25 years. The 2017 release of their sixth full-length album Berdreyminn was an international success, reaching into Top 50 charts across Europe. Since then the band has been fairly dormant, but word has it that they're stepping back into the studio early this year. Although they've yet to drop a cut from the forthcoming project, we'll definitely keep an eye out for any 2020 releases.
Sycamore Tree
The year 2020 looks like it's going to be a good one for Sycamore Tree. The Icelandic duo has already set Icelandic music charts ablaze with "Fire," the debut single from their upcoming sophomore album. Sycamore Tree's gentle melodies colored in with catchy songwriting put the band on course to becoming an Icelandic indie-pop band to look out for.
Tómas Welding
Tómas Welding is a young Icelandic solo artist and soon-to-be pop star. Welding's 2019 debut singles "Cop Car" and "Sideways" have already received high praise, which says a lot considering he has yet to drop an album. That being said, we have a hunch Welding has new music coming our way in the very near future.
Una Stef & the SP74
Una Stef is an Icelandic singer-songwriter and piano player from Iceland. Her soulful voice, backed by the funky grooves of band SP74, has shaped Stef into being one of Iceland's greatest singers in recent history. After hit tracks such as "Mama Funk" and "Breathe," Una Stef continues to stay true to being the Alicia Keys of Iceland with her latest single "Like Home." Una Stef & the SP74 is expected to drop a full-length album early this year.
Oyama
Dream pop pack Oyama returns after the 2014 release of their debut LP Coolboy. Oyama's fuzzy and dreamlike energy is more apparent than ever in their latest song "Spare Room." While a date has yet to be announced, the popular Icelandic band is getting ready to release their sophomore full-length in the coming months.

Want to hear more? Stream a playlist of these artists on Spotify.