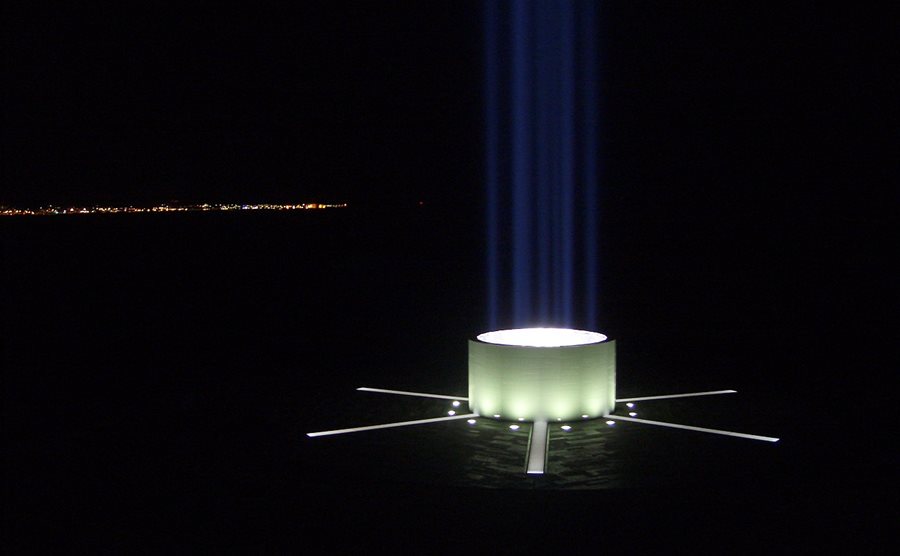 The Tower of Light Near Reykjavik
The Imagine Peace Tower is a monument to world peace on Videy Island, just off the shore of Reykjavik. The brainchild of Yoko Ono, this work of art promotes love, peace and the power of nature. 
The tower itself is a tall, cylindrical building that shines a beacon of light up around 13,000 ft (4000 m) into the sky. Since Videy is just across the bay from Reykjavik, the spectacular beacon is even visible from downtown. 
Unveiled in 2007, the tower is lit each year in a grand ceremony on John Lennon's birthday, October 9. Yoko Ono usually attends each year. 
"This column of light in Iceland will not be extinguished," Ono has said. "It is the eternal flame we send out to the world and the universe to give light and warmth, and the hope and conviction that our dreams can come true." 
Though lit for only a limited period throughout the year, visitors can spot the illuminated light throughout the winter: 
9 Oct to 8 Dec, from John Lennon's birthday to the day of his death
21 Dec to 1 Jan, Winter Solstice
20-27 March, Spring Equinox
18 Feb, Yoko Ono's birthday
The light shines from about 1 hour after sunset until midnight – except on John and Yoko's birthdays and New Year's Eve, when it is lit until sunrise. On October 9 and March 20, it's lit from 8 pm.
So if you time it right, you should be able to catch this spectacle of light!
Why Iceland?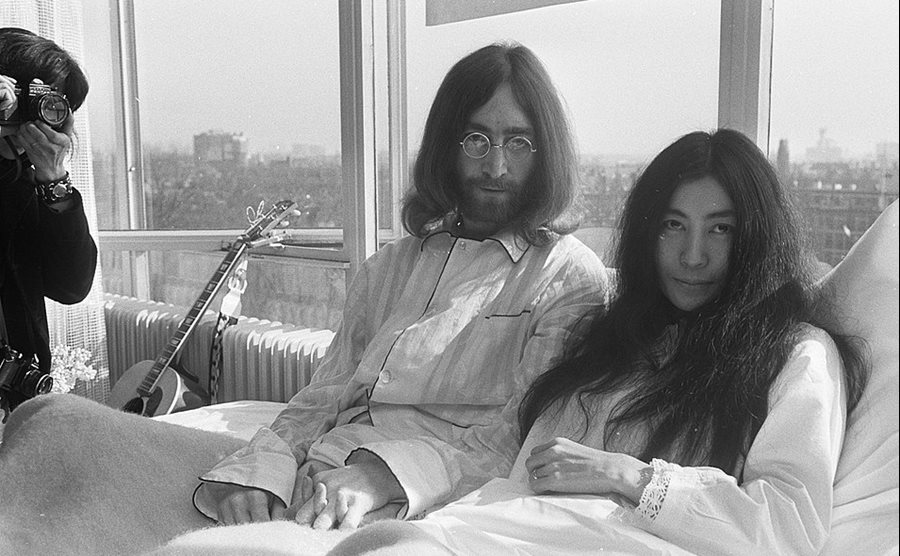 The Imagine Peace Tower is the masterpiece of artist Yoko Ono, a memorial to John Lennon and their united message of world peace. When asked why she chose Iceland for her exhibit, Ono responded: 
"Iceland is a magical and beautiful country. The electrical energy source for the country and for the IMAGINE PEACE TOWER is geothermal – water, instead of oil. No pollution. No war. This is just one of the incredible situations that creates the magic of Iceland."
The power used for the John Lennon Peace Monument is all geothermal energy. It's a simple concept: 15 searchlights with prisms project light from a 10-meter-wide wishing well up into the skies. The words "Imagine Peace" are carved all over the well in 24 languages. Inside the well, Ono buried a million wishes written on paper that she collected over the years. 
"Iceland is such a spiritual place," Ono has said. "I always feel such a strong energy when I return there. Love, peace, understanding and the power of nature are easy to forget in today's fast-paced modern life. In Iceland, particularly on Viðey, it becomes easier to remember how important these things are to us all and to the planet. John would have loved it."
Videy Island (Viðey)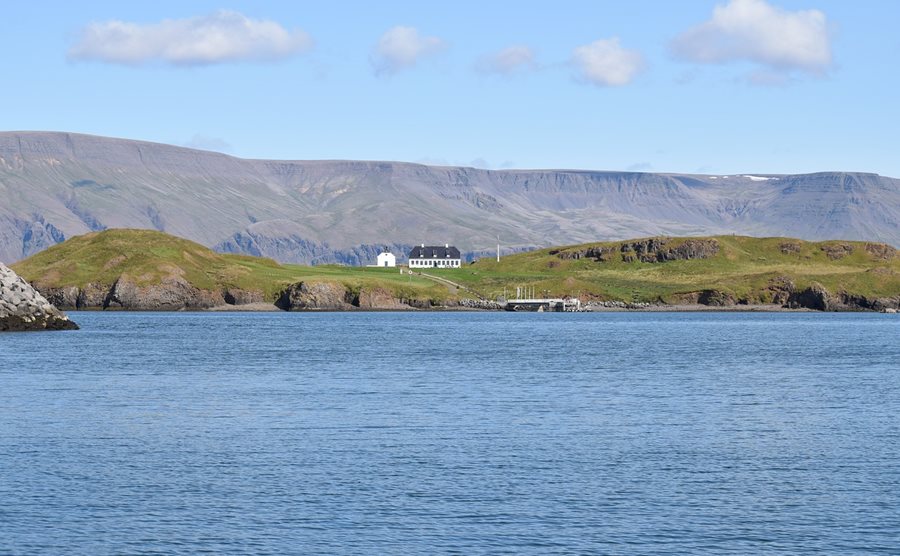 Just a short ferry ride from Reykjavik, the island of Videy has been settled for more than 1,000 years. Because of its small size, however, it's always been a difficult place to live. In the late 18th century, Skuli Magnusson built the mansion and church that remains there to this day. 
In the mansion, visitors will find an exhibit on the island's history and the Videy House Cafe to grab some soup. Or wander around the easy walking paths. On the west side of the island, ramble around the easy walking paths to another work of art: Richard Serra's Afangar. This outdoor exhibit features a series of 18 basalt columns that stand in pairs next to the pathways.
October 9 - Ceremony of the Tower Lighting
The main ceremony takes place on October 9, in commemoration of world peace and in remembrance of John Lennon. 
If you'd like to join the festivities, you can hop on the free Videy ferry. Catch a bus from Hlemmur bus terminal to Skarfabakki pier.
5:45 pm – 8:10 pm: The City Bus rides from Hlemmur bus terminal to Skarfabakki pier every 20 minutes, free of charge. 
6:00 pm – 8:30 pm: The ferry rides from Skarfabakki pier to Viðey Island.
6:30 pm – 9:30 pm: Various guided tours, music performances, choirs in the mansion. 
9:00 pm – Tower lighting. 
9:45 pm – After the ceremony, the ferry rides from Viðey Island to Skarfabakki pier.
Other times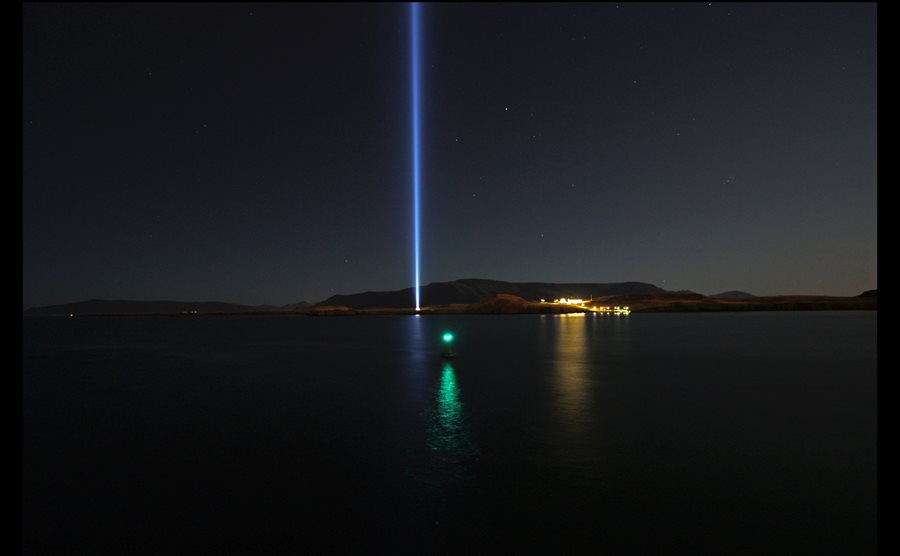 From October 10, guided evening tours from Skarfabakki offer insight into this conflux of art and nature. A 1.5-2h tour costs 5000 ISK per person and usually includes pickup. 
For bookings call +354 555 3565 no later than 4 pm the same day.
Pro Tips!
It gets cold and windy on Videy Island. Dress warmly and in layers! Bring a windbreaker and sturdy, waterproof shoes. 
On October 9, Videy can get pretty busy with pilgrims from all over the world. If crowds are not your thing, wait until the day after the ceremony to visit. 
If you arrive while it's still light, take a walk around the island. It's only 1.7 sq km and easy to explore in just a few hours. You might spot one of the 30 species of birds that breed there in the mating season. The basalt columns from the Afangar outdoor exhibit are also an impressive sight. 
Check out the event website.