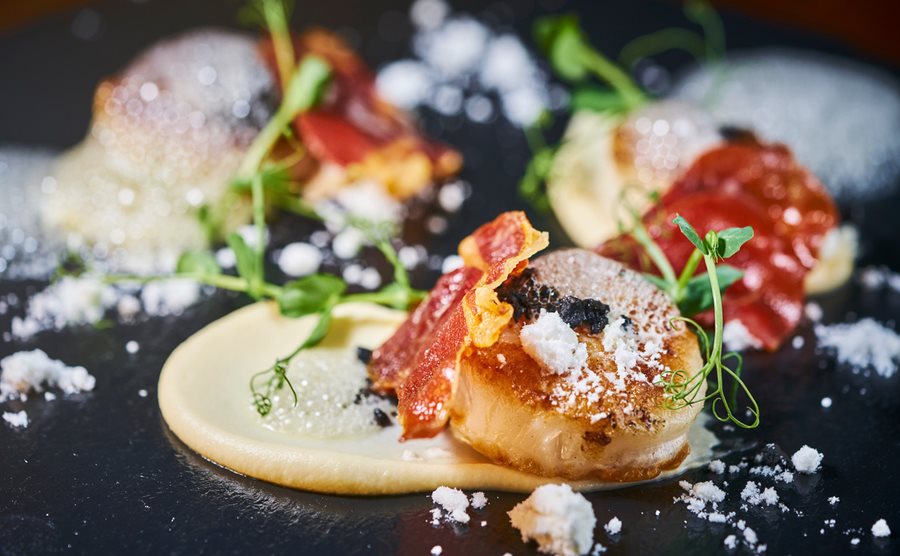 Bite into Fermented Shark, Sheep's Head and Skyr
Traditional Icelandic food consists mainly of meat, fish, and dairy. Nothing too extravagant, huh? Think again! Get ready to try smoked Puffin stew and Minke Whale steak. 
This extensive guide on the best traditional Icelandic food spots in Reykjavik and the rest of the country will introduce you to some of the weirdest Icelandic dishes — and the best places to try them!
Top 9 Authentic Icelandic Food Spots in Reykjavik and Beyond
1. Old Iceland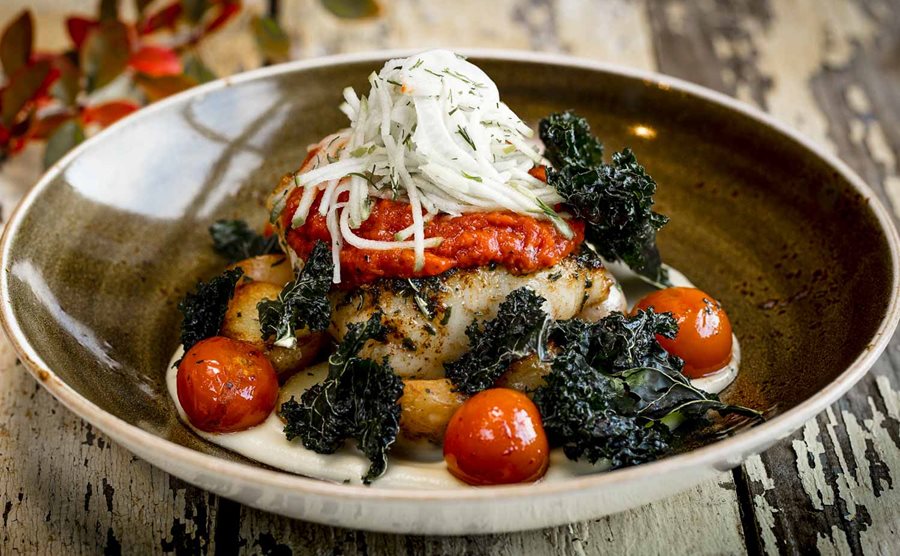 Address: Laugavegur 72, 101 Reykjavik
Phone: +354 551 6131
Opening hours: Every day from 11.30 a.m. to 3:30 p.m. and 5 p.m. to 10 p.m.
Vibe: Chill, with a dash of romance
Nestled on the most popular street in Reykjavik, Old Iceland is famous for its locally-sourced traditional Icelandic cuisine. The restaurant is family-run and focuses on fresh fish and meat. 
On the menu, you'll find traditionally cooked lamb, beef cheeks, and fresh fish turned into a stew or fried on a pan. The restaurant is famous for its Kjötsupa - a traditional lamb soup with veggies. Vegetarians will also find several options.
2. Kaffi Loki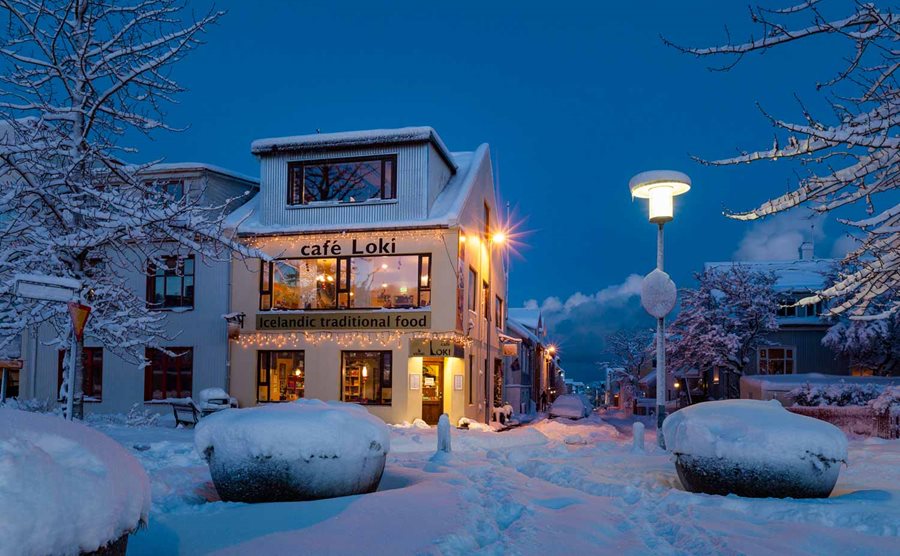 Address: Lokastígur 28, 101 Reykjavik
Phone: +354 466-2828
Opening Hours: Every day from 8 a.m. to 10 p.m.
Vibe: Take-your-shoes-off-when-you-enter kind of chill
Located across the street from Hallgrímskirkja Church in Reykjavik, Loki is a family-owned cafe with delicious takes on home-style Icelandic cuisine. It's the perfect place to taste a bit of everything. 
Loki specializes in pairing unique Icelandic dishes with shared (or individual, depending on what kind of eater you are) platters. Their Iconic Icelandic Braveheart plate consists of a Brennivíns caraway schnapps shot, rye and flatbreads covered in butter, and a side of Hákarl, or fermented shark. Cap off your visit with rye bread ice cream — a must-taste for every visitor!
3. Fjörukráin - The Viking Village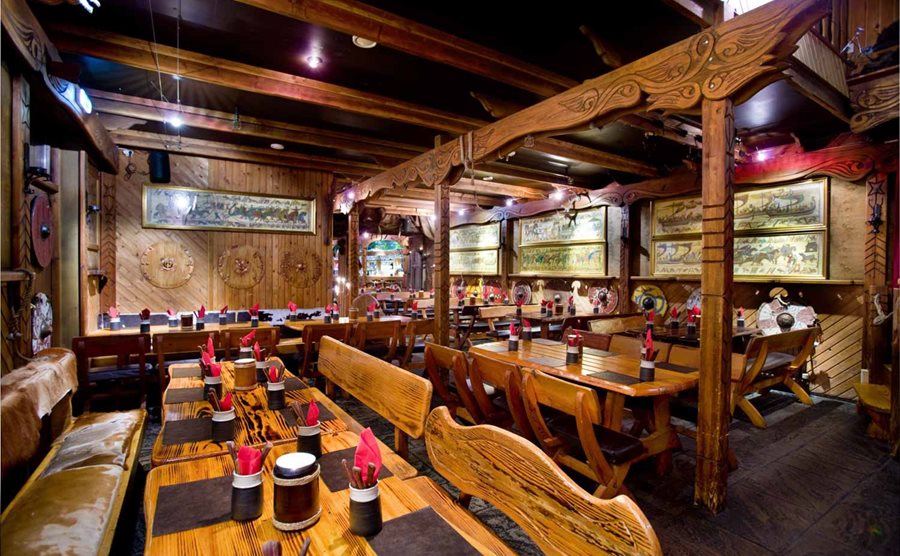 Address: Strandgata 55, 220 Hafnarfjörður
Phone: +354 565 1213
Opening Hours: Every day from 6 p.m. to 10 p.m.
Vibe: Where tables are made of barrels, animal heads hang on the walls and it's still the 19th century
The Viking Village is a cozy family restaurant, built in 1841. The restaurant reeks of authenticity and traditional Icelandic food made by true Vikings. Furnished with wooden tables and benches, the restaurant invites you back to 19th century Iceland where there are drunken singing and guest kidnapping. The menu consists of traditional Icelandic food, such as Svið (sheep's head), fermented shark, an endless supply of Black Death. The Viking Village is a place you'll want to come back again and again.
4. Reykjavik Fish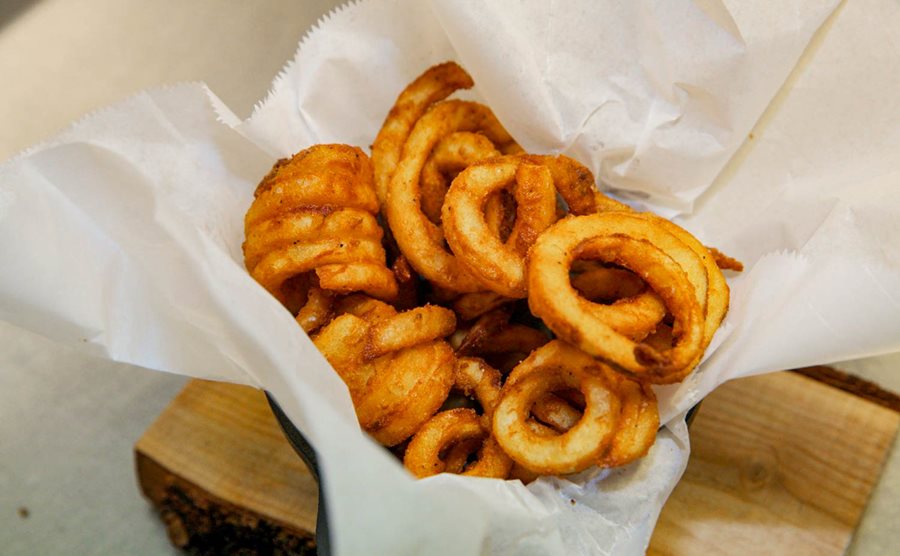 Address: Tryggvagötu 8, 101 Reykjavík
Phone: +354 578 5656
Opening Hours: Every day from 11 a.m. to 10 p.m.
Vibe: Fast comfort food for every hungover foodie
Located at the Old Harbor, Reykjavik Fish is one of the best seafood restaurants in Iceland. It doesn't look like much from the outside, but once you step in, the smell of freshly cooked fish will quickly wake up your taste buds! 
The menu consists of an Iceland take on traditional British fish and chips, as well as Plokkfiskur, an authentic fish soup made with potatoes and milk, and many other delicious fish dishes. Even if you aren't a big fan of seafood, lunch at Reykjavik Fish is sure to leave you transformed!
5. Pylsuvagninn Selfossi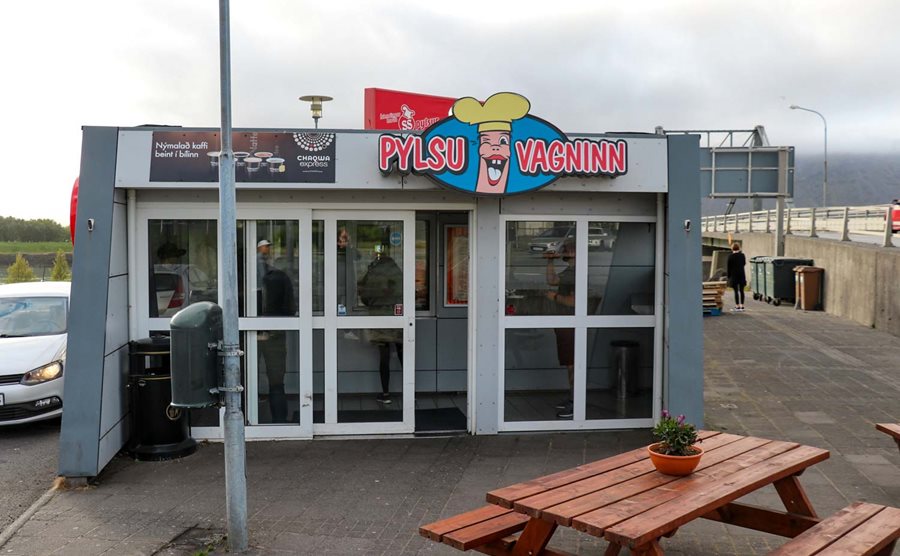 Address: Við brúnna, 800 Selfoss
Phone: +354 482 1782
Opening Hours: From Sunday to Thursday from 9:30 a.m. to 10 p.m., on Fridays - 9:30 a.m. to 11 p.m., and Saturdays 9:30 a.m. - 4 a.m.
Vibe: Unimposing hot dog cart housing the hot dog of all hot dogs
Opened in 1984, the evolution did right by this hot dog kiosk. Owned and run by a team of ladies, the kiosk grew year after year and now, it's a 236 sq ft. (22 sq.m.) the mansion, serving the best hot dogs in Iceland. It is situated in Selfoss, by the famous waterfall and is impossible to miss as there's always a line next to it. If you're out of time, there also are two drive-through windows, serving those in a rush.
While Bæjarins Beztu in Reykjavik might be more known, Pylsuvagninn Selfossi is actually the place you're looking for if you're truly in search of the best Icelandic hot dog.
6. The Old Skyr Factory Restaurant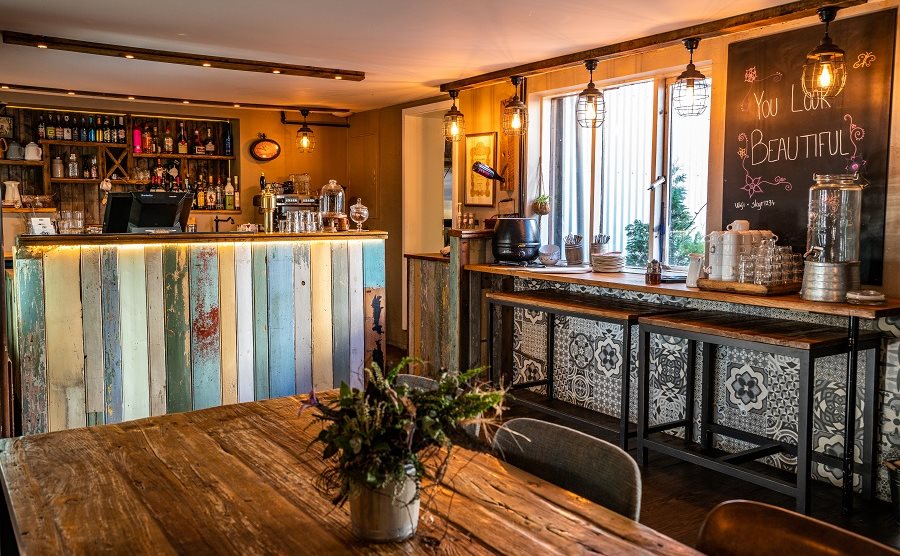 Address: Breiðamörk 25, 810 Hveragerdi
Phone: +354 481 1010
Opening Hours: Every day from 11:30 a.m. to 9 p.m., except on Friday and Saturday - 11:30 a.m. - 10 p.m.
Vibe: Chic country-style hangout with a dash of oregano
Located in Hveragerði, one of Iceland's most geothermally active areas, the Old Skyr Factory is the perfect place for a family getaway! You can go on a tour of the factory and find out all about Skyr — Icelandic yogurt. After the tour, sample a few different flavors of Skyr in their restaurant. 
The Old Skyr Factory restaurant has a separate tasting menu for the Skyr lovers as well as a la carte menu. The surrounding scenery is also breathtaking. Go for a nature walk after dinner or lunch at the factory!
7. Tapas Barinn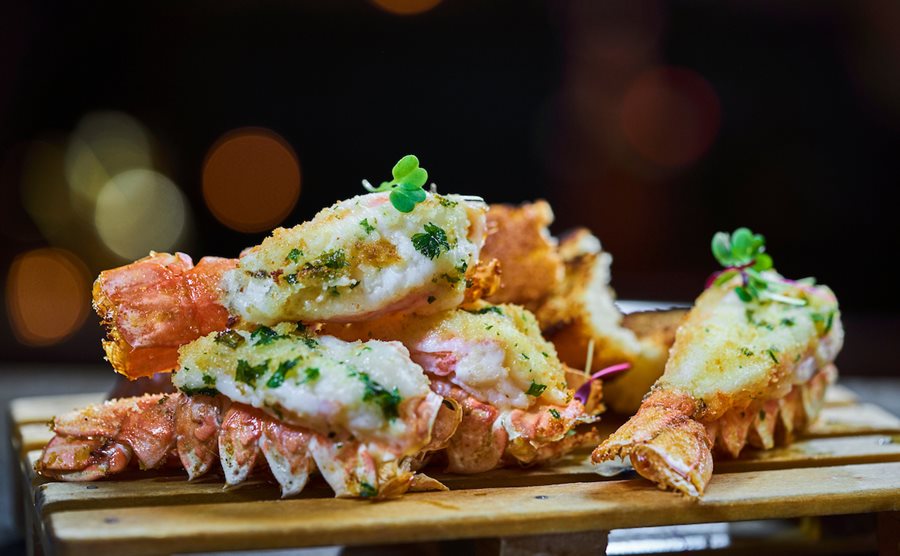 Address: Vesturgötu 3B, 101 Reykjavik
Phone: +354 551 2344
Opening Hours: Every day from 5 p.m. to 11:30 p.m., except on Friday and Saturday - 5 p.m. to 1 a.m.
Vibe: Spain meets Iceland
Located close to Reykjavik's Harbor, Tapas Barinn puts an Icelandic twist on Spanish tapas — and a Spanish twist on Icelandic tapas. Trying out weird Icelandic food in the form of tapas might be exactly what you need. For the ultimate experience, order the "Tapas Our Way" tasting menu, featuring smoked Puffin meat in blueberry and Brennivin carraway schnapps sauce or Minke Whale in cranberry sauce. If you're not in the mood for tapas, an a la carte menu is also available with slightly less intriguing options.
8. Sandholt Bakery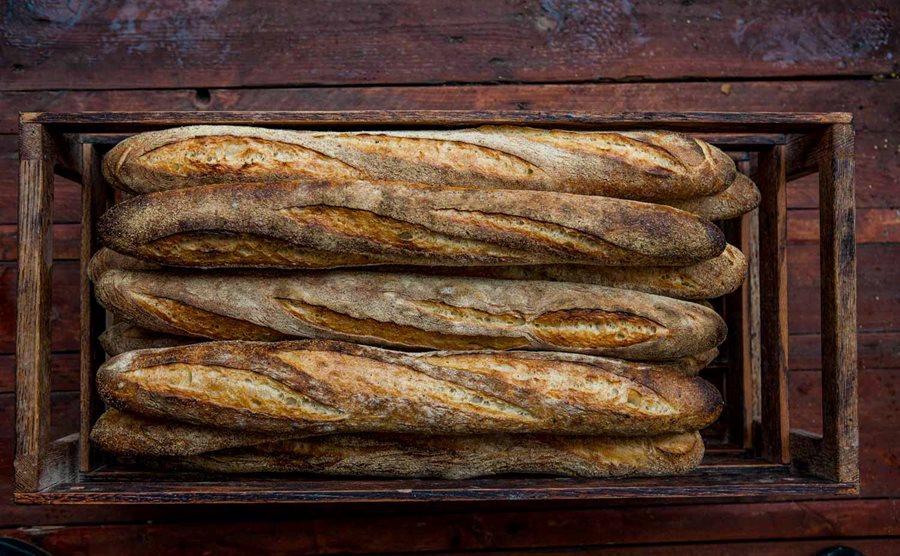 Address: Laugavegur 36, 101 Reykjavík 
Phone: +354 551 3524
Opening hours: Every day from 7 a.m. to 6:30 p.m.
Vibe: The "chicest" of them all
Sandholt is an award-winning bakery in the heart of Reykjavik. Open since the 1920s, the bakery is built on centuries-old traditions and hearty family recipes. This family-run bakery applies high standards to quality, tradition, and fresh ingredients in every bread and pastry. On top of delicious traditional treats, such as Rúgbrauð, dark rye bread, and bites with Atlantic char, you will also find classic brunch, lunch, and dinner options.
9. Mulakaffi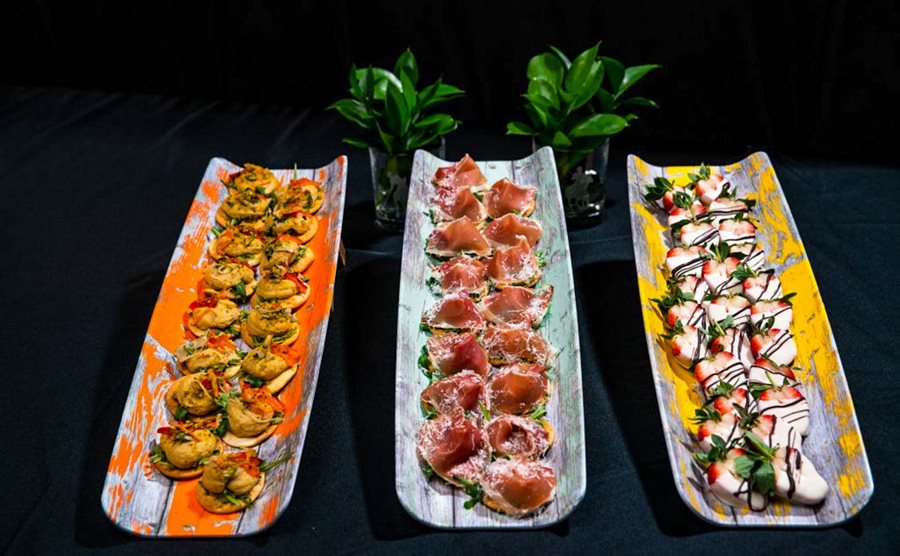 Address: Hallarmúla 1, 108 Reykjavík
Phone: +354 553 7737
Opening hours: Monday to Friday from 7:30 a.m. to 8 p.m., Saturdays from 10 a.m. to 2 p.m.
Vibe: Lunch at mum's house
Mulakaffi is a family-owned restaurant, famous for its traditional Icelandic cuisine. Open since 1962, the restaurant menu changes weekly with daily lunch offers as well as a la carte options. The menu is rich with various meat and fish dishes and features another traditional Icelandic dish — Hrútspungar, sour ram's testicles. Keep in mind that Hrútspungar is a seasonal dish and usually served during the Christmas festivities.
Did You Know?
Traditional Icelandic cuisine is rooted in Nordic heritage. Ever since the ninth century, the first settlers' homes were dominated by the smell of meat (mostly lamb and horsemeat) and seafood. 
Subsistence farming and preservation methods helped the settlers maintain their food supplies during the dark winter months, while the wealth of dairy products kept them healthy during the summer. What may seem unappetizing or inedible to some is Icelanders' daily bread.