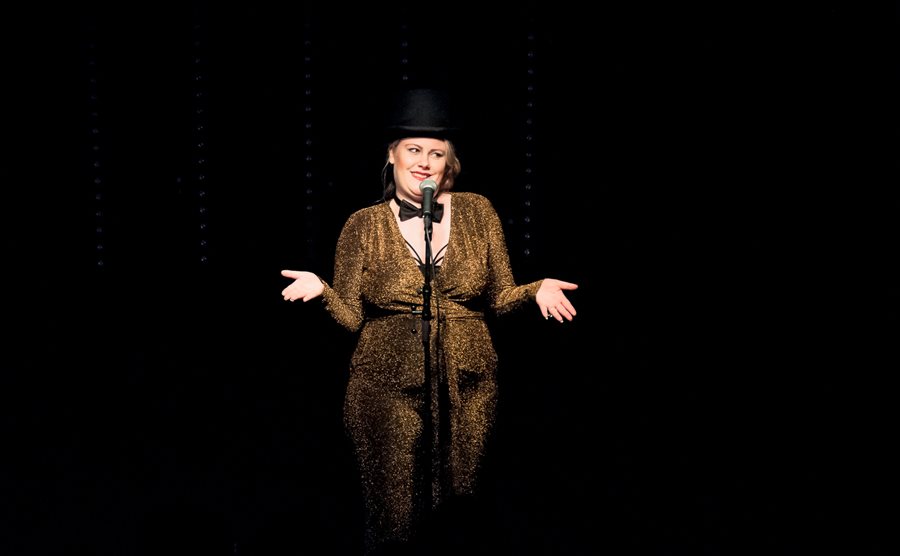 Maack talks Icelandic cabaret, funny bodies and the beauty of crude humor
Margrét Erla Maack, known on stage as Miss Mokki, is the high priestess of Reykjavik's cabaret and burlesque scene. Although she's been active for years, Maack brought burlesque to the forefront of the Reykjavik variety nightlife scene in 2016, when she co-founded the Reykjavik Kabarett collective. 
These days, Maack is performing regularly, inventing new routines, teaching burlesque and touring around Iceland — oh, and she's eight months pregnant. Totally Iceland's Yanshu Li sat down with Maack to talk about the burlesque scene in Reykjavik and why are our bodies are so damn funny. 
How did you get your start in burlesque? 
In 2007, I had been belly dancing for three years. Then, in the same week, I won the lottery and my boyfriend broke up with me. I decided to go to New York for three months and that's how I found burlesque.
I was hired as a belly dancer in a variety show. That's where I saw burlesque and got to know burlesque performers. I was just in awe — at the liberation, the heightening of sexuality, the showcasing of all sorts of bodies. In Iceland, there was nothing like that at the time!
Why did you decide to return to Iceland to do burlesque after your stint in New York?
After those three months [in New York], I really did not want to go back to Iceland. But all my friends in the scene said, "You have something we all wish we had" — which is going to a city where there is nothing and you can build it. You can make it your own.
How did you become involved in the cabaret scene back in Iceland?
There was an advertisement on a board that said "Free Circus Classes on Sunday Evenings." … I took those classes and I couldn't do anything! I was afraid of heights, nobody could lift me and I couldn't lift anybody. But I knew this would be the way [forward].
A couple of years later, we started doing adult shows with the circus. Then I quit the circus a couple of years ago because I wanted to pursue more burlesque. ... We founded Reykjavik Kabarett in 2016.
Who did you work with to form the Reykjavik Kabarett? How did the project pick up steam in recent years?
Reykjavik Kabarett is a burlesque-cabaret collective with me, Lalli the Magician, Maísól who's a clown and variety performer, and Gógó Starr who's a drag queen. Then there are other performers who we call in every so often. 
In 2016, the drag community started being more prominent [in Iceland]. They had more regular shows. We decided to ride on that wave. Today Reykjavik Kabarett is, I would say, the flagship of the cabaret scene here in Reykjavik.
What is the history of cabaret like in Iceland?
I would say that the cabaret and variety scene in Reykjavik is maybe three or four years old — the neo-cabaret scene, that is. There were cabarets happening here in the 50s, 60s, 70s, but they were again very word-based, comedy-based, music-based. Burlesque performers came from Denmark and England, but they were just girls who came here for a month and then disappeared. There were no Icelandic girls doing it at the time.
What's special about Iceland's neo-cabaret scene today?
The Icelandic scene is very variety-based. Here, the burlesque is very intertwined with comedy and skill acts, and also just a variety of performers. All sorts of body types, ages and different people that can also entertain.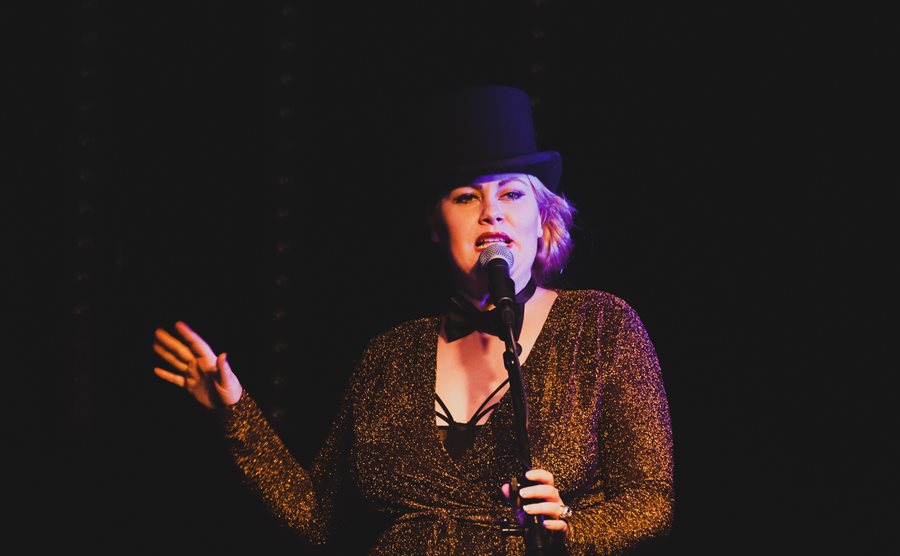 Do you think that it's important for burlesque to feature different body types?
I think so, yeah. In a lot of other cities, the burlesque is very beauty-driven and one-note. But especially here in Iceland, over 70 percent of people that buy tickets to the show are female. They want to see somebody like them on stage so that they feel empowered. ...
I'm eight months pregnant and I'm still doing burlesque now. It's a celebration of the body and the amazement of the body. To me, it's important to not only showcase the female body as "Am I sexy now?" but to also showcase it as funny, strong, different and part of our personality.
Over the years, have you received any surprising or unexpected comments from audience members?
People always come up to me after a show … and say "You are so brave," instead of "You were amazing" or "You were entertaining" or "You were a great dancer" or "You were so funny." They want to say that I'm "brave" for being the body type that I am onstage. 
They mean it well. But what they're actually saying is, "You really shouldn't be taking off your clothes in front of people." Because I'm a bigger lady. 
A lot of people get this comment, but it's never the skinny girls who are told: "Oh my god, you are so brave for doing burlesque!" It's always bigger girls or older girls.
Do your burlesque shows break people's perceptions or stereotypes?
A lot of people come in with the idea of it being a really raunchy show. Like, "Oh my god, they're going to stick something up their…," you know. They have weird ideas. I always hear after shows, when people come for the first time, that they're surprised by how funny it is. … It's short bits with cheap humor, it's grotesque, it's physical and you don't need to be smart to enjoy it.
People say that Iceland has the best gender equality in the world. Do you believe that the burlesque scene is a part of this?
I hate those BBC segments that are like, "Iceland's the best place to be a woman!" Because it's used to silence us. Sure, we are better than a lot of countries, but we have a long way to go. 
Right now I'm dealing with parental leave. Because I'm an entertainer and my income is very fluctuating, I have very limited right to a parental leave. … It's not available for women who want to be pioneers or work freelance and control their own time. The system here is very much for one kind of workplace.
Where do you find inspiration for your acts?
Inspiration comes from everywhere. Music talks to me a lot, as do issues that are happening all around.
I have a period act where I'm doing a fan dance and then realize that I have a period stain on my underpants. And then I have these tampons with glitter on them and use them as tampon titty tassels. That act was because I was fed up with how expensive the tax is on period products! 
I have another act that's done to an Icelandic version of "Think" by Aretha Franklin... I dedicated it to all women that have ever been told to relax. I've been told often, when I'm trying to fight for something, "Come on, relax. Stop being hysterical."
How was your summer burlesque tour around Iceland?
I traveled around Iceland in the summer with Búkalú [burlesque group], which included Icelandic and international performers. ... Pretty much everyone in Reykjavik has seen a burlesque show, and my favorite thing about touring is doing [burlesque] for people who have never seen it before. Taking a proper New York-style burlesque show to [small villages like] Vik i Myrdal or Hólmavík.
What was it like performing burlesque in such small Icelandic towns?
I was taking people who have performed in New York their whole lives to Hólmavík. They were like, "How many people live in Hólmavík?" And I was like, "600 people." We had 100 people in the audience. We did a show in Flateyri, which is a town of 300 people. And 120 people came and saw it. We did a show in Berufirði, which is not even a town, it's just a farmhouse, and it was packed.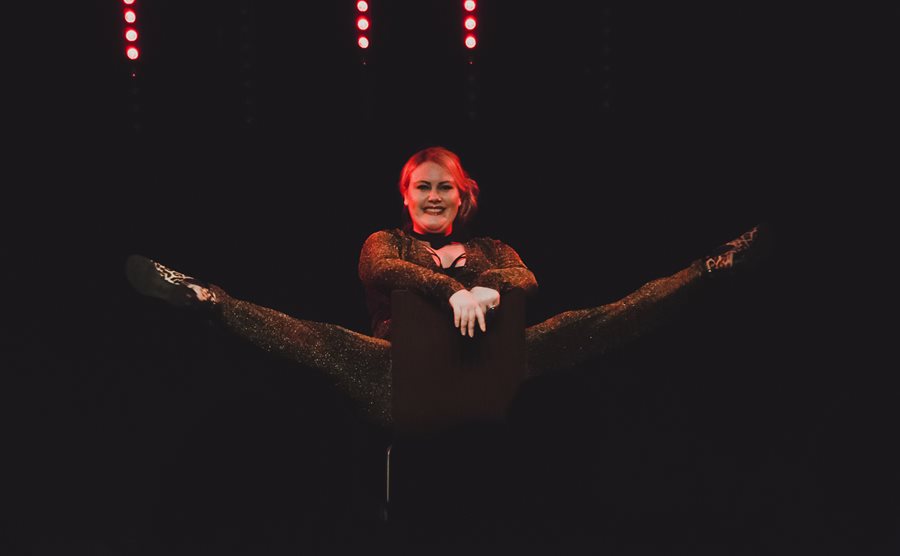 In those remote towns, do you think that people came to the shows with the right idea of what burlesque would be?
I was warned that because it's not Reykjavik, we might get dirty men coming in, but we never got that. I'm a known feminist. I've been an essayist and a writer for a very long time. I've written a lot about feminism and about all sorts of female issues. So I think that if people thought it was a degrading stripping show, and then saw my name to it, they thought, "Oh, no, it's a hairy feminist show."
Maack's currently on maternity leave, but you can check out her website, read more press and find out when she'll next be shattering Reykjavik's culture scene. She's aiming to return to the stage in December.