Meet the First Icelander to Ever Win an Oscar and the First Woman to Win in the Scoring Categories Since 1997
On Feb. 9, 2020, Icelandic musician Hildur Guðnadóttir collected an Oscar for best score for her work on Todd Phillips' film "Joker." Her award ended the academy's 22-year streak of honoring only male composers. The night was nothing short of history-making.
Hildur was born in 1982 and grew up in Iceland, a country that's undoubtedly one of the better places to be a woman. For nearly a decade, the World Economic Forum has ranked Iceland as the world's most gender-equal country.
We've gathered the most intriguing facts about Hildur Guðnadóttir and her inspiring work.
"Joker's" Hildur Guðnadóttir is the first women to win Oscar for Best Original Score in 23 years
Icelandic musician Hildur became the fourth woman to win an Academy Award for a film score in the award's history. Previously, Marilyn Berman won an Oscar for "Yentl" in 1982, Rachel Portman won for "Emma" in 1996 and Anne Dudley won for "The Full Monty" in 1997.
The 92nd Academy Awards ceremony not only marked Hildur's great achievement but was also a memorable moment for gender equality and women's rights around the world.
"To the girls, to the women, to the mothers, to the daughters, who hear the music bubbling within, please speak up," she said in her acceptance speech. "We need to hear your voices."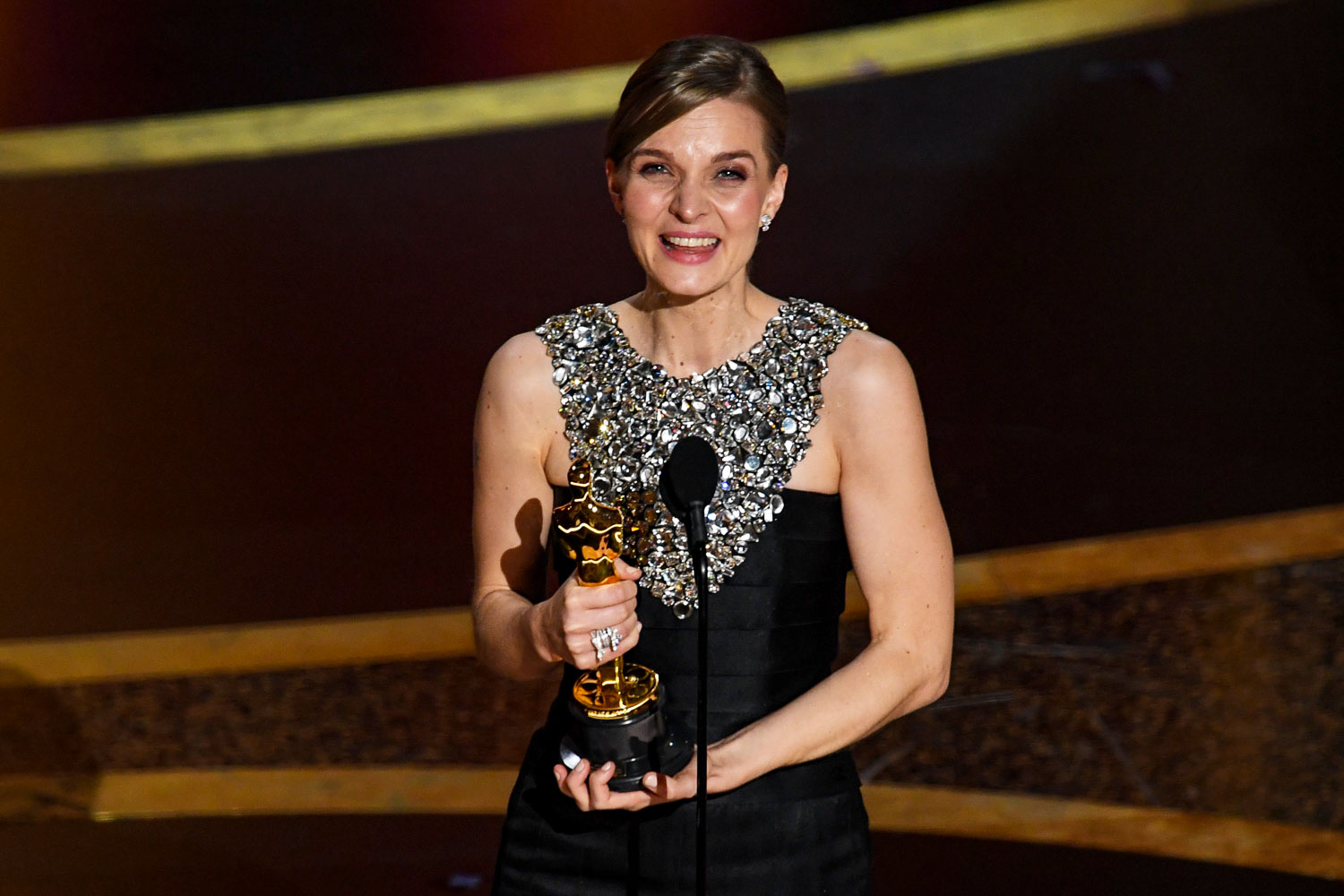 Hildur's speech reflects Iceland's firm commitment to women's empowerment. The island country in the North Atlantic Ocean has the narrowest gender gap in the world. Back in 1980, Iceland became the first democracy to elect a female president, Vigdis Fimmbogadottir.
In addition, Iceland became the world's first country to enforce equal pay between men and women in 2018.
With record-breaking Hildur's achievements, Iceland continues to pave the way for women empowerment.
"I think people are just a bit more open toward trusting women," Hildur told The Hollywood Reporter.
The classically trained cellist from Iceland has also won Golden Globe, BAFTA, and Critics' Choice awards for scoring "Joker"
Heading into the Oscars, Hildur Guðnadóttir had already nabbed the Golden Globe for Best Original Score, the BAFTA for Best Original Music, and Critics' Choice Award for Best Score. No solo female winner had claimed any of these awards before, making the Icelandic composer the first woman to win on her own.
She was nominated alongside heavyweight film score composers such as Thomas Newman ("1917"), John Williams ("Star Wars: The Rise of Skywalker"), Randy Newman ("Marriage Story") and Alexandre Desplat ("Little Women").
Hildur Guðnadóttir's "Bathroom Dance" inspired Joaquin Phoenix's now-iconic dance scene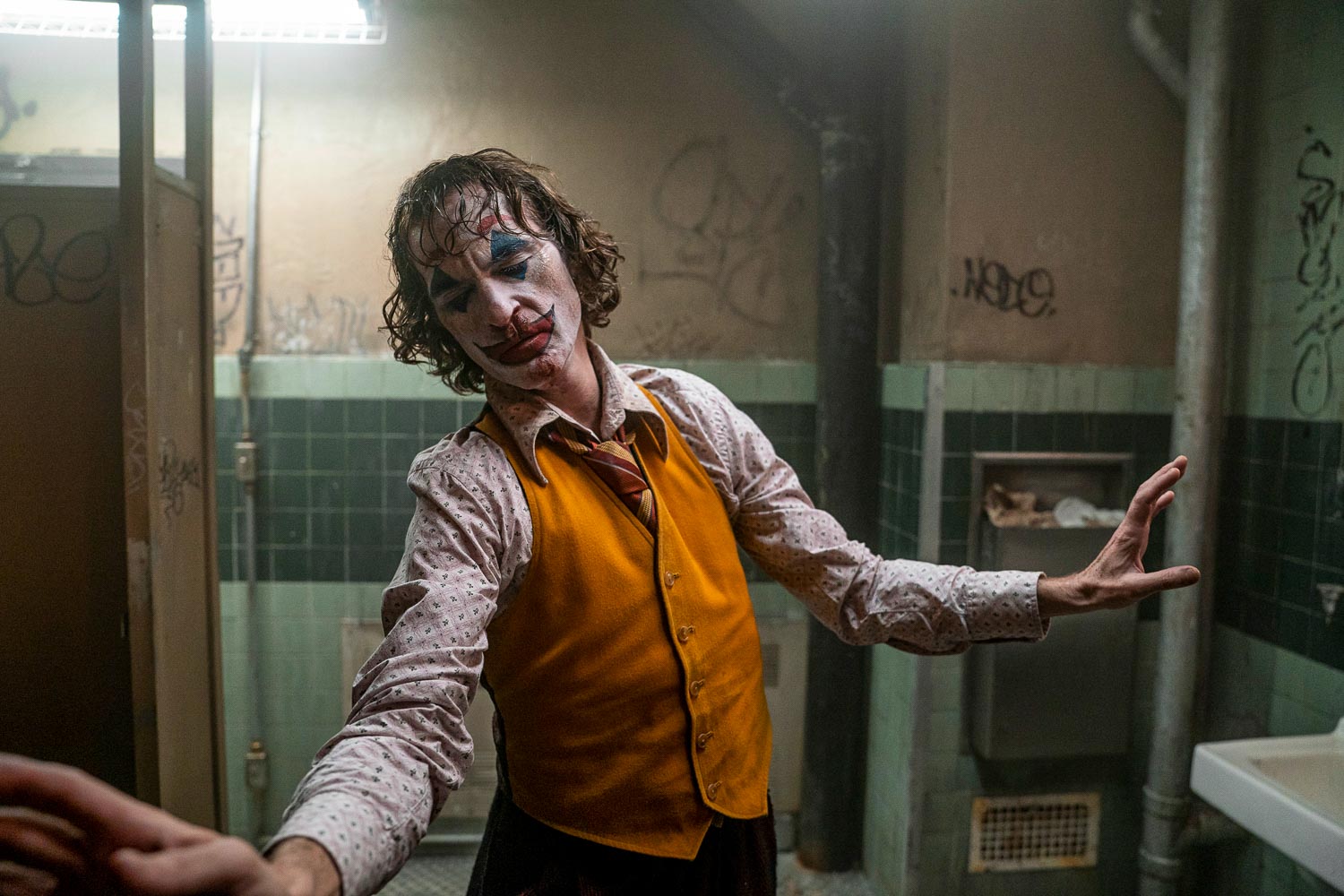 One of the most important scenes from "Joker" takes place right after Joaquin Phoenix as  Arthur Fleck guns down three Wall Street workers on the New York subway and runs into a bathroom to calm himself. He does so with a creepy dance to the unsettling string score by Hildur.
But the killer dance was not in the original script. Phoenix improvised on set whilst listening to the music Hildur had written.
"It was just so incredible to see how Joaquin channeled exactly what I felt when I wrote the music," said Hildur during the Oscar's press room interview.
Anyone who's seen the film will agree that the soundtrack plays a big part in showing Arthur's shocking transformation into Joker.
Director Todd Phillips discusses the music and the bathroom scene in the video below.
The composer behind "Joker" is one step away from the coveted EGOT status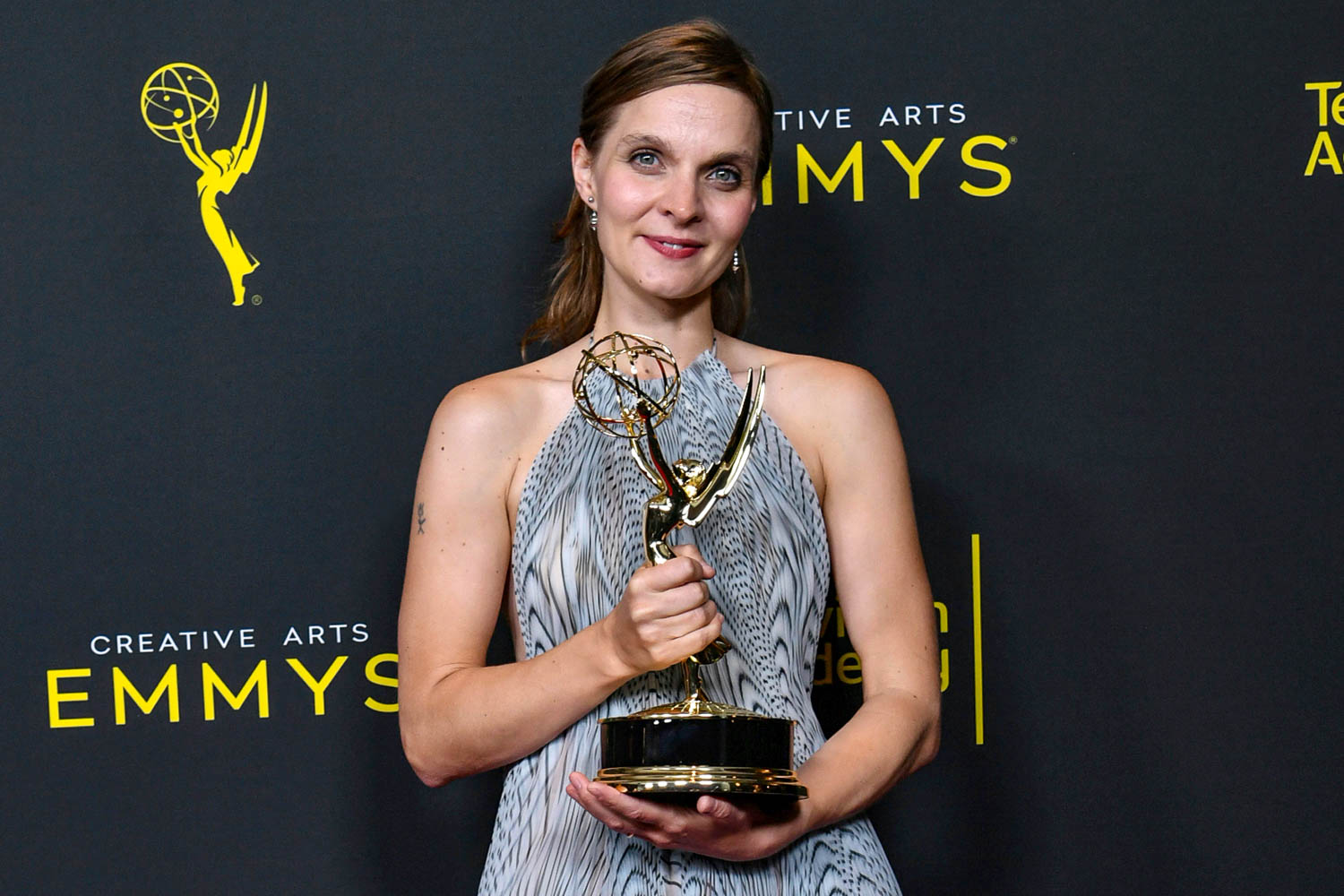 Hildur captivated the world not only with her soundtrack to the film "Joker" but also for her equally haunting score for the HBO miniseries "Chernobyl." She worked on the scores for "Joker" and "Chernobyl" simultaneously.
Icelandic composer wrote the soundtrack for "Chernobyl" by recording the sound at a decommissioned nuclear power plant in Lithuania.
Her composition for "Chernobyl" earned her both the Primetime Emmy and Grammy awards. She's merely a Tony Award away from the elusive EGOT club — a rare group of people who have won an Emmy, a Grammy, an Oscar, and a Tony.
Winning all four awards is the ultimate achievement in Hollywood.
Hildur Guðnadóttir Collaborated with the late Jóhann Jóhannsson, one of Hollywood's leading film scorers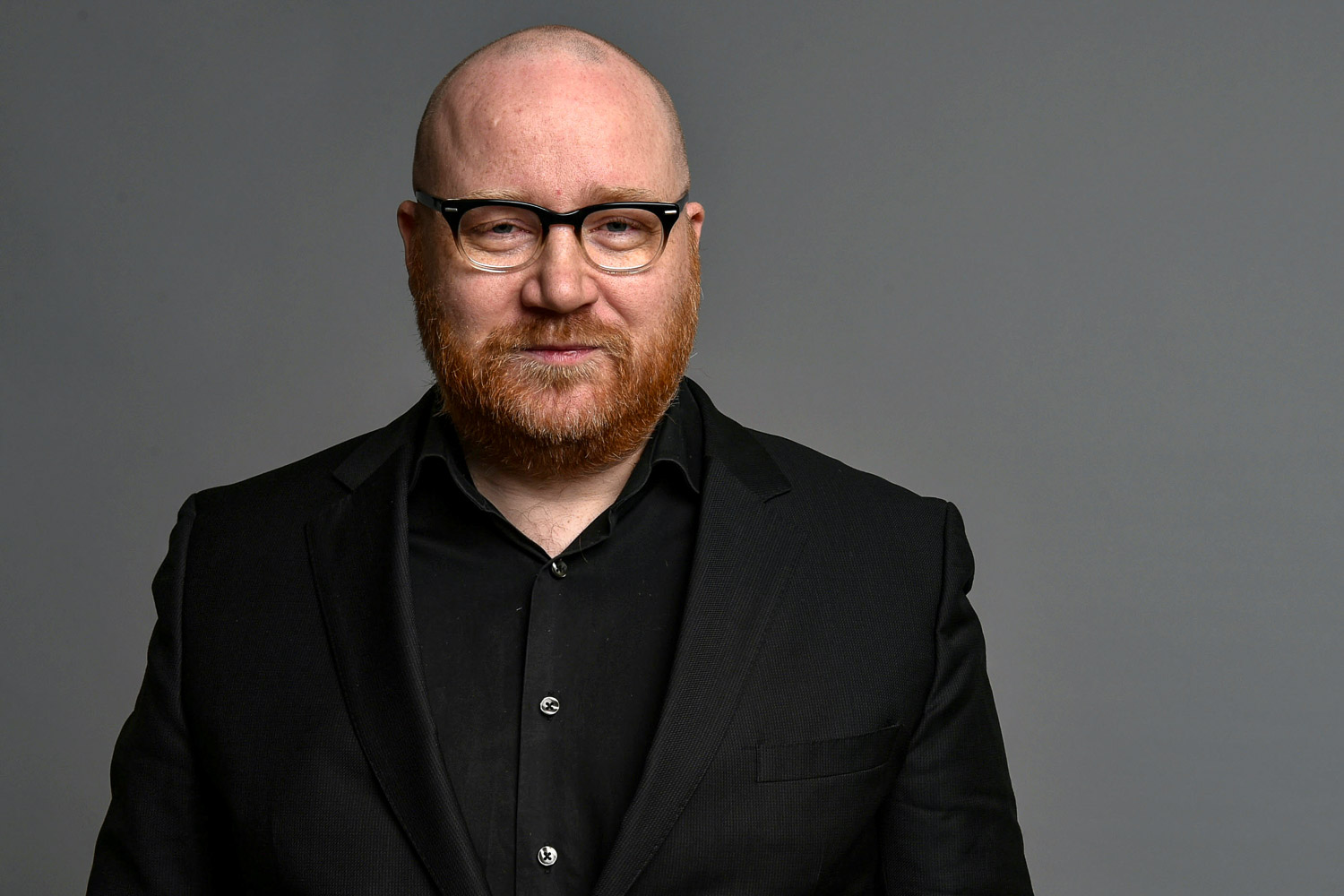 Hildur was a long-time collaborator with prolific Icelandic composer Jóhann Jóhannsson. She worked with him on countless projects including "Sicario: Day of the Soldado" (2018), "Mary Magdalene" (2018), and "Arrival" (2016).
The Berlin-based composer has been writing music for film and television for nearly 20 years. She grew up surrounded by musicians. Her father is a composer and clarinet player, her mother is an opera singer, and her brother is a member of the band Agent Fresco.
---
Hide this ad

---
Hildur also played with bands Pan Sonic, Throbbing Gristle, Animal Collective and Sun O))), among others. She has released four critically acclaimed solo albums: "Mount A" (2006), Without Sinking" (2009), "Leyfðu Ljósinu" (2012), and "Saman" (2014).
Chernobyl and Joker composer Hildur Guðnadóttir also scored "Trapped" (Ófærð), an Icelandic crime-drama series that became internationally popular after it was picked up by BBC Four, France Télévisions and German broadcaster ZDF.
Hildur has been busy making history and we can't wait to hear more of her incredible songs.
Are you a fan of Hildur Guðnadóttir's Joker original motion picture soundtrack? Share your best-loved song in the comments below!