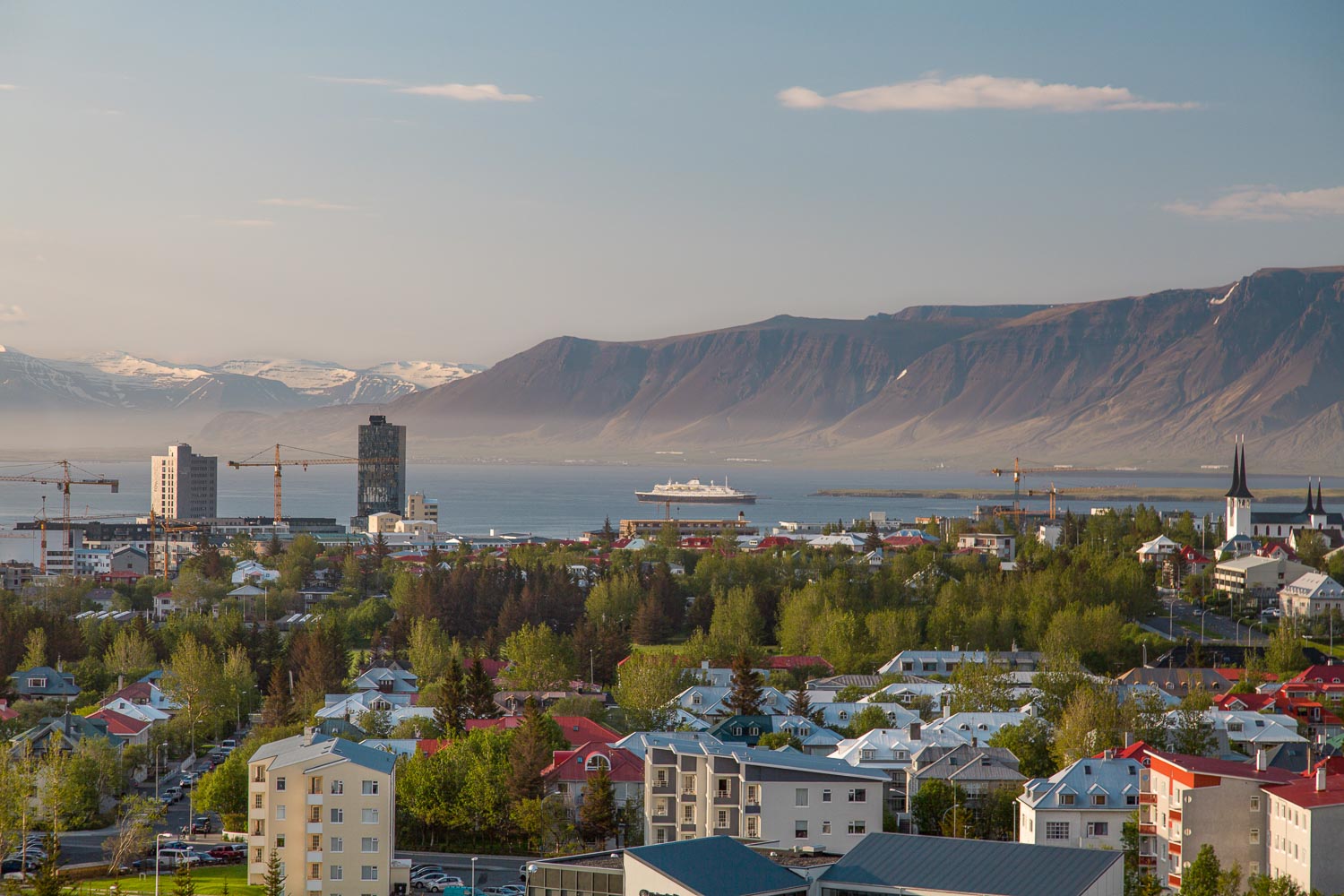 The Best District for a Good Sleep, Museum Tours and Lying on the Grass
Hlíðar (or Hlidar, meaning "hills") is a central residential area right next to Miðborg in Reykjavik. It has plenty of open green space and is well connected to the city center. If you're looking for a quiet stay right by downtown Reykjavik, Hlíðar is the spot for you!
Hlíðar is good for more than a good night's sleep. A number of Reykjavik's most famous museums are also based in the area. These include the world's only Phallological Museum (you read that right) and Reykjavik's landmark Perlan. Iceland's only geothermal beach, Nauthólsvík, is also based in the district.
We've gathered everything you need to know about Hlíðar's history, what to see and places to visit into this ultimate guide.
That Peaceful Hlíðar Vibe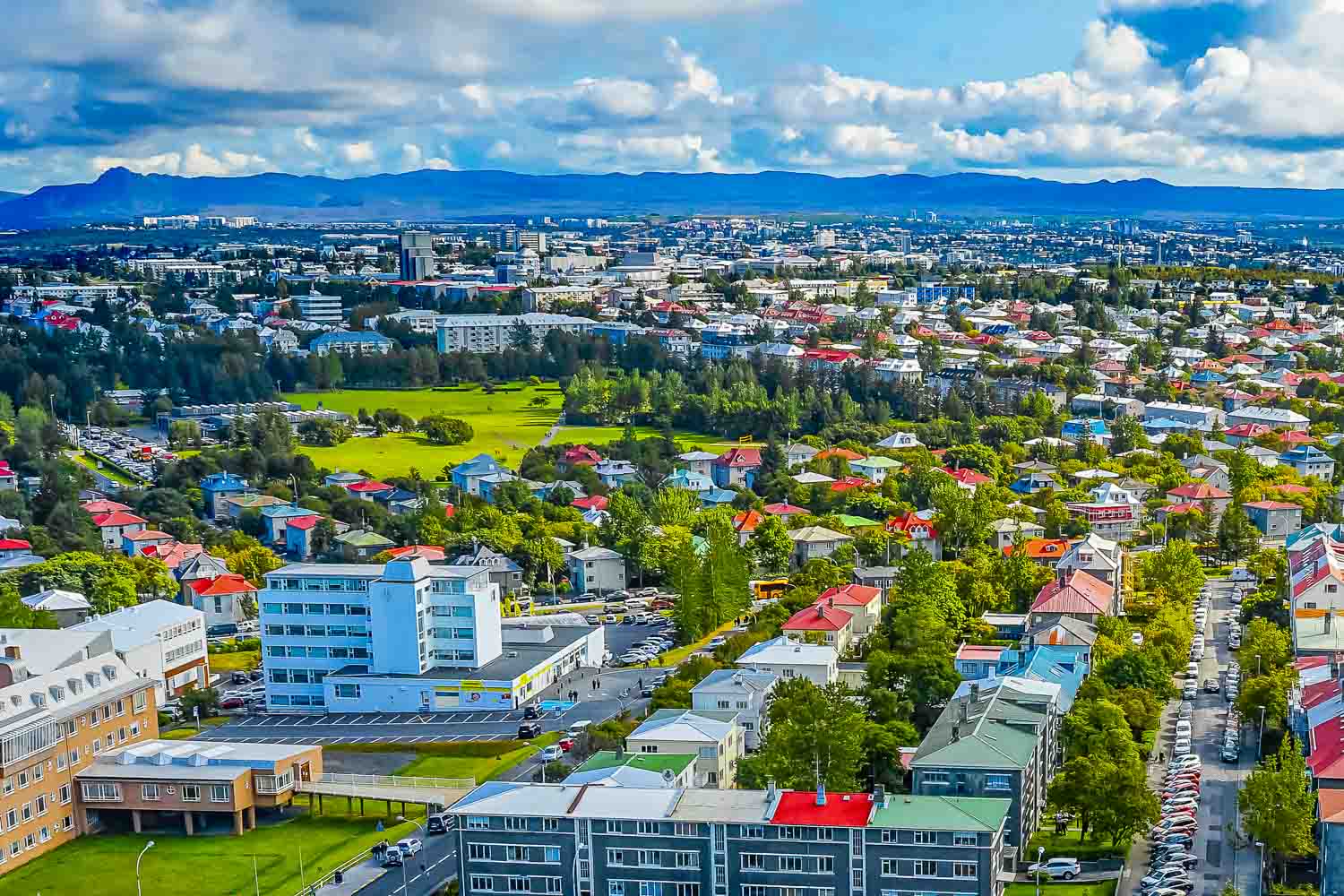 Hlíðar is quiet, green and slow while also being walking distance away from all the bars and restaurants in downtown Reykjavik. 
If you're looking to get a peaceful night's sleep but also want entertainment available within arm's reach during the day, look for accommodation in Hlíðar.
History of Hlíðar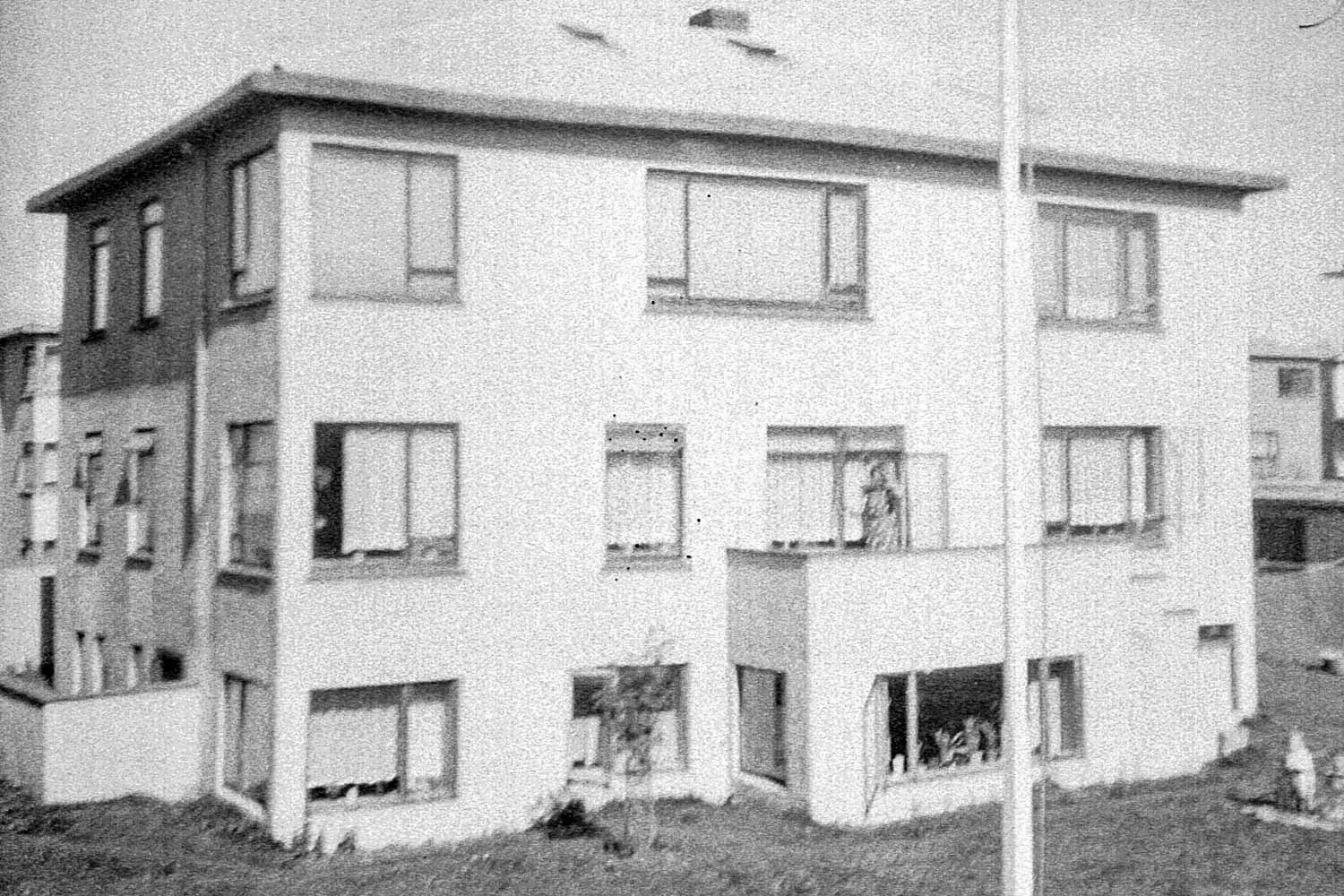 The area was an important transportation hub, especially after the turn of the 20th century, when a water well was constructed at Hlemmur.
Hlíðar began to populate in the late 19th century. In 1885, a bridge was built over a creek near what is today Hlemmur Square. It marked Reykjavik's eastern border and connected the city and the countryside.
The area was an important transportation hub, especially after the turn of the 20th century, when a water well was constructed at Hlemmur. It became a stop for travelers to quench their horses' thirst. In 2005, Sigurjón Ólafsson's statue of horses named "Klyfjahestur" was erected at the square to commemorate its important role.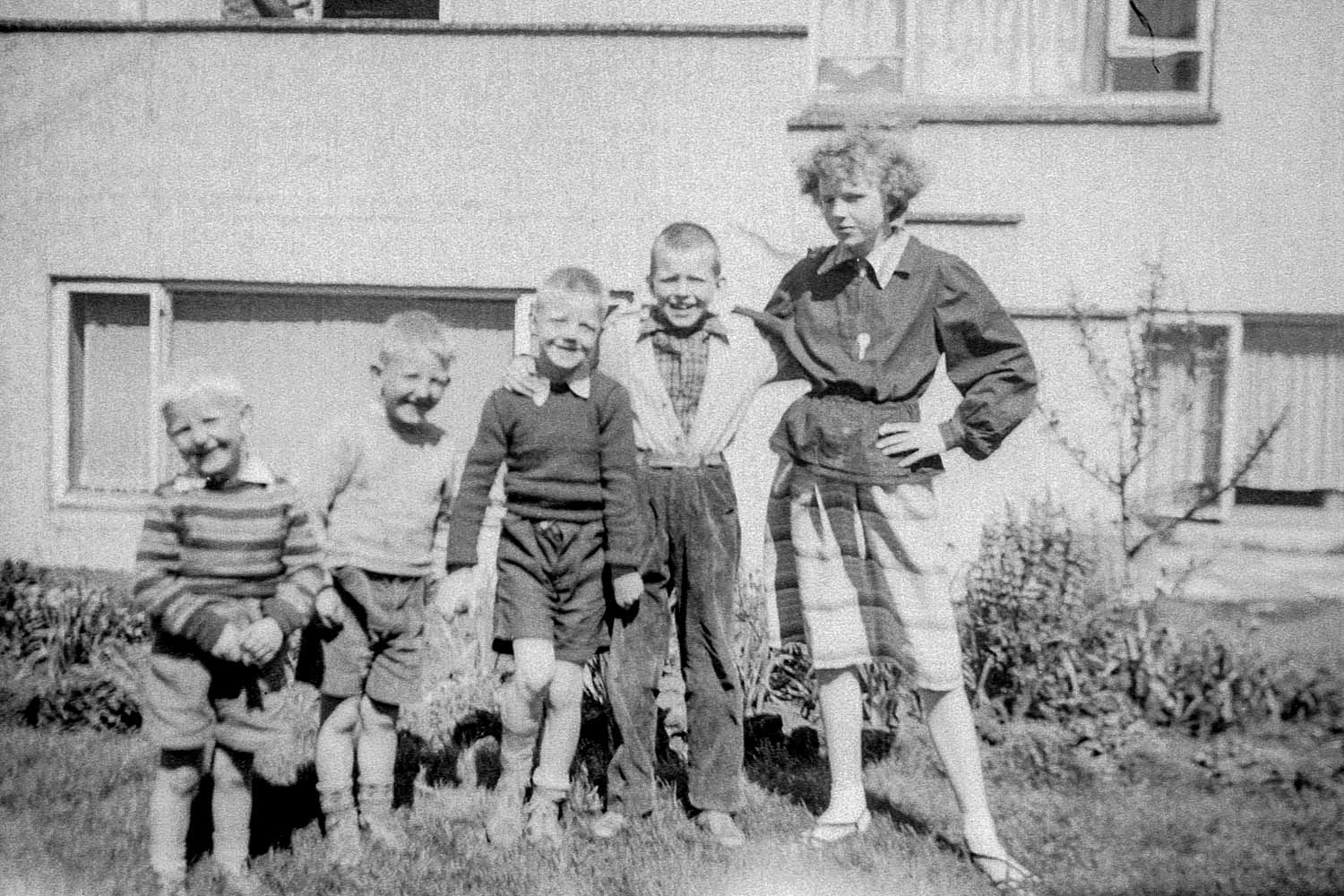 Around 1910, rocks from Öskjuhlíð Hill were used to construct Reykjavik's old harbor. The first and only railway in Reykjavik was built to transport the rocks from the hill to the harbor. 
In 1939, the first one out of six geothermal water tanks was placed on Öskjuhlíð. Reaching up 61 meters (200 ft) above sea level, the hill was high enough to provide high water pressure even to Reykjavik's tallest buildings. Today six hot water tanks stand on the hill.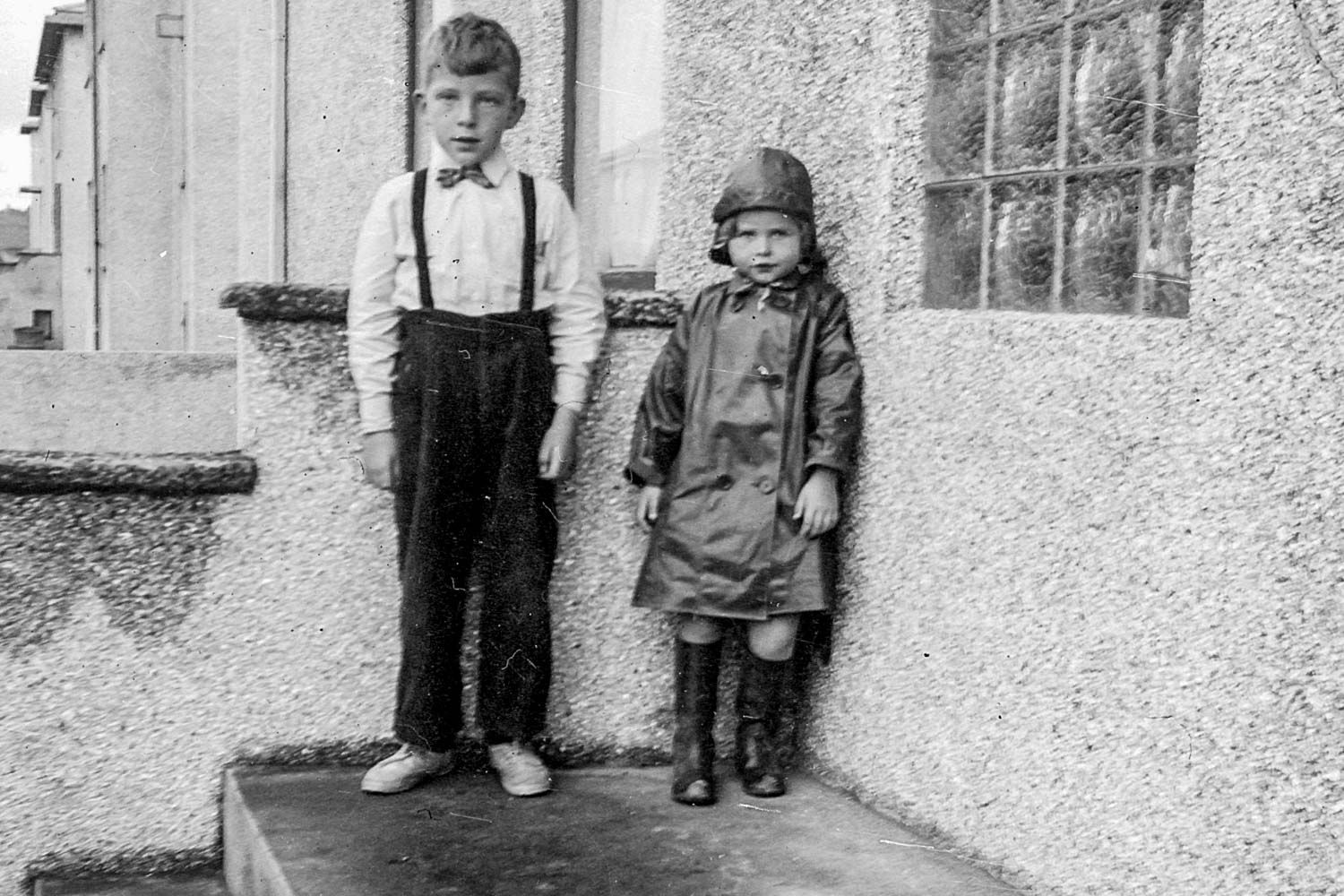 Throughout history, the forested area around Öskjuhlíð was usually a bare land. Only in the 1950s trees were planted on the hill and it was turned into a recreational area home to friendly hopping rabbits. It soon became popular among local love birds looking for a romantic hideaway in the city.
Norðurmýri, a part of Hlíðar, was the first planned neighborhood outside Reykjavik 101. As Reykjavik's population grew the city boundaries had to expand. In 1935, houses with concrete facades started popping up in the area. Some of their facades are covered in sea-shells. This technique was employed by Iceland's famous state architect Guðjón Samúelsson to protect the houses from harsh weather.
What are the main highlights of Hlíðar?
Perlan (e. The Pearl)
You can spot Perlan from almost anywhere in Hlíðar. This landmark building stands on top of six water tanks on Öskjuhlíð Hill. Under its glass dome, Perlan hosts an interactive high-tech nature exhibition and a slow spinning restaurant.
The exhibition at Perlan sheds light on Iceland's most famous natural wonders. Here you can visit an indoor ice cave, enjoy the Northern Lights Planetarium and explore the puffin paradise, Látrabjarg Cliff, with the help of augmented reality.
The Icelandic Phallological Museum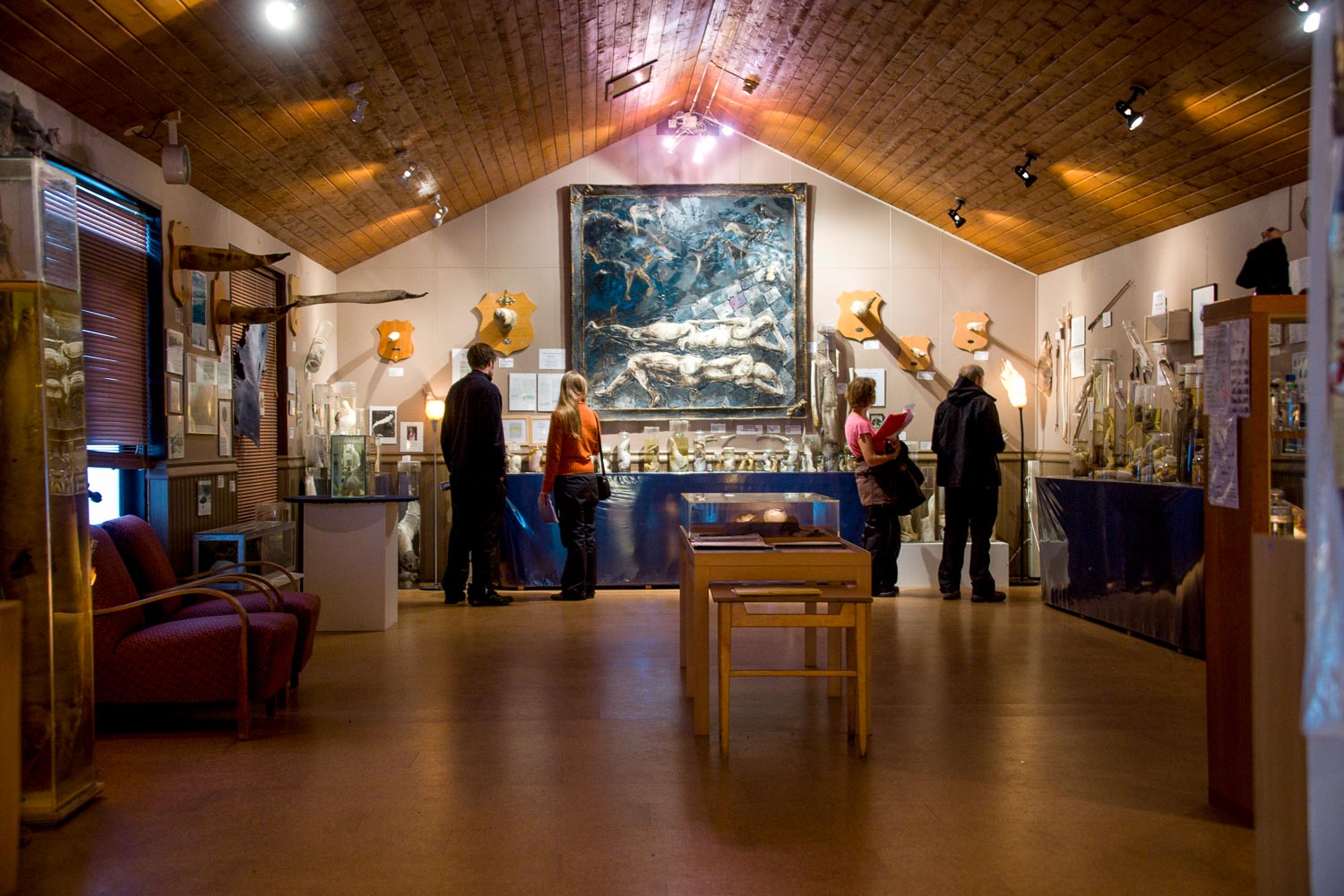 This unusual museum made it to our list of the Top 5 Weird Museums in Iceland. The exposition contains hundreds of penises and penile parts belonging to nearly 100 animal species. The museum has had a positive impact on science because its large collection made it possible to undertake extensive studies in the field of phallology.
Nauthólsvík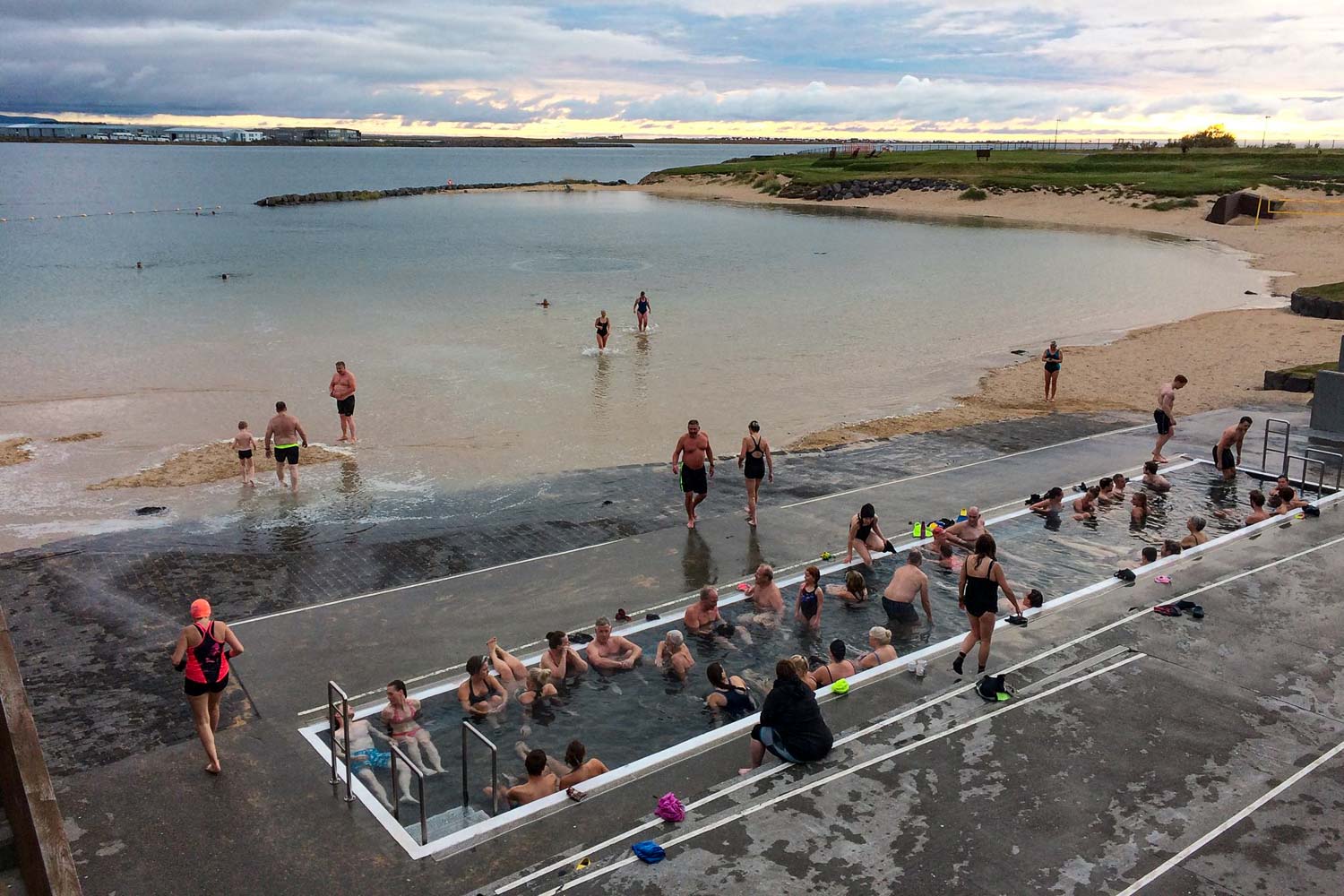 Nauthólsvík geothermal oasis is located right at the foot of Öskjuhlíð Hill. The sand-covered beach is open all year round. It features two hot tubs, a swimming area, an area for BBQ and a volleyball playground. The service center has showers, changing rooms and a small snack bar.
The beach is a great place to spend the day chilling in the hot tubs connected to the city's hot water supplies on top of the hill.
If you've ever thought about dipping into the North Atlantic Ocean, this is your chance. The water might still be chilly, but plunging in at the geothermal beach is certainly more bearable than in the open waters. 
Nauthólsvík has been awarded a Blue Flag Certificate, which means that the beach meets high quality and environmental standards.
Hlíðarendi Stadium
Opened in 2008, Hlíðarendi Stadium is a multi-purpose stadium with a football field and an indoor arena. It's the home-court of Valur, Icelandic athletic club that includes basketball, football and handball teams. 
The stadium holds nearly 2,500 people and has 1,200 seats. The indoor court has 1,300 seats.
Other Places to Check Out in Hlíðar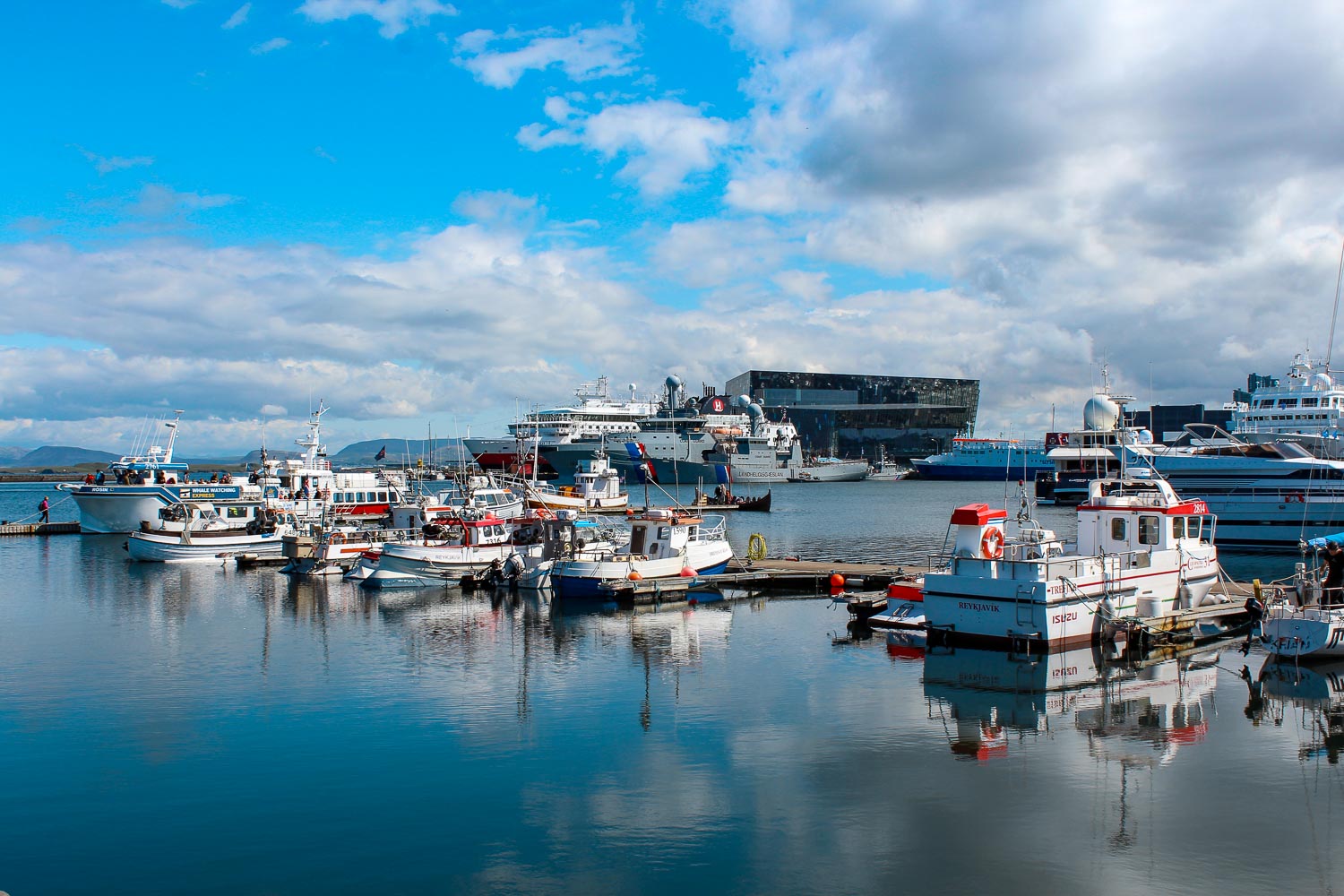 Loads of free things can be done in and around Hlíðar. If you're looking for inspiration, check out our list of 53 free things to do in Reykjavik! In addition to the activities on that list, we have a few more ideas for free or inexpensive entertainment in the area.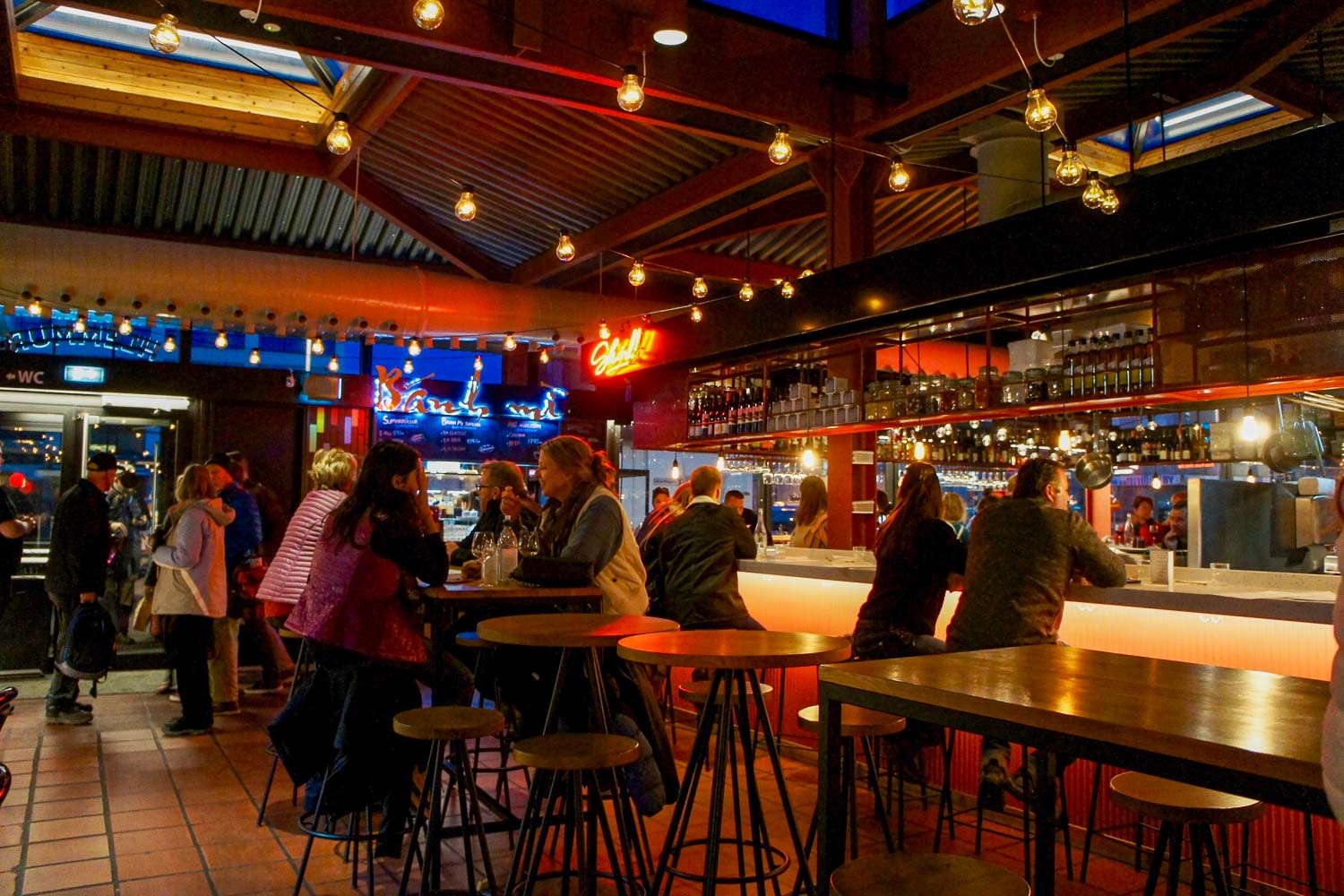 Hlemmur Square is located right by the Hlemmur bus terminal. Once an important transport hub, the square now hosts a colorful bazaar serving food from all over the world. A few decades ago, the area wasn't thought to be the best part of town to hang out in. Homeless people and drug addicts spent their time around the bus station. Today, the situation has completely changed and the square attracts hipsters and artists.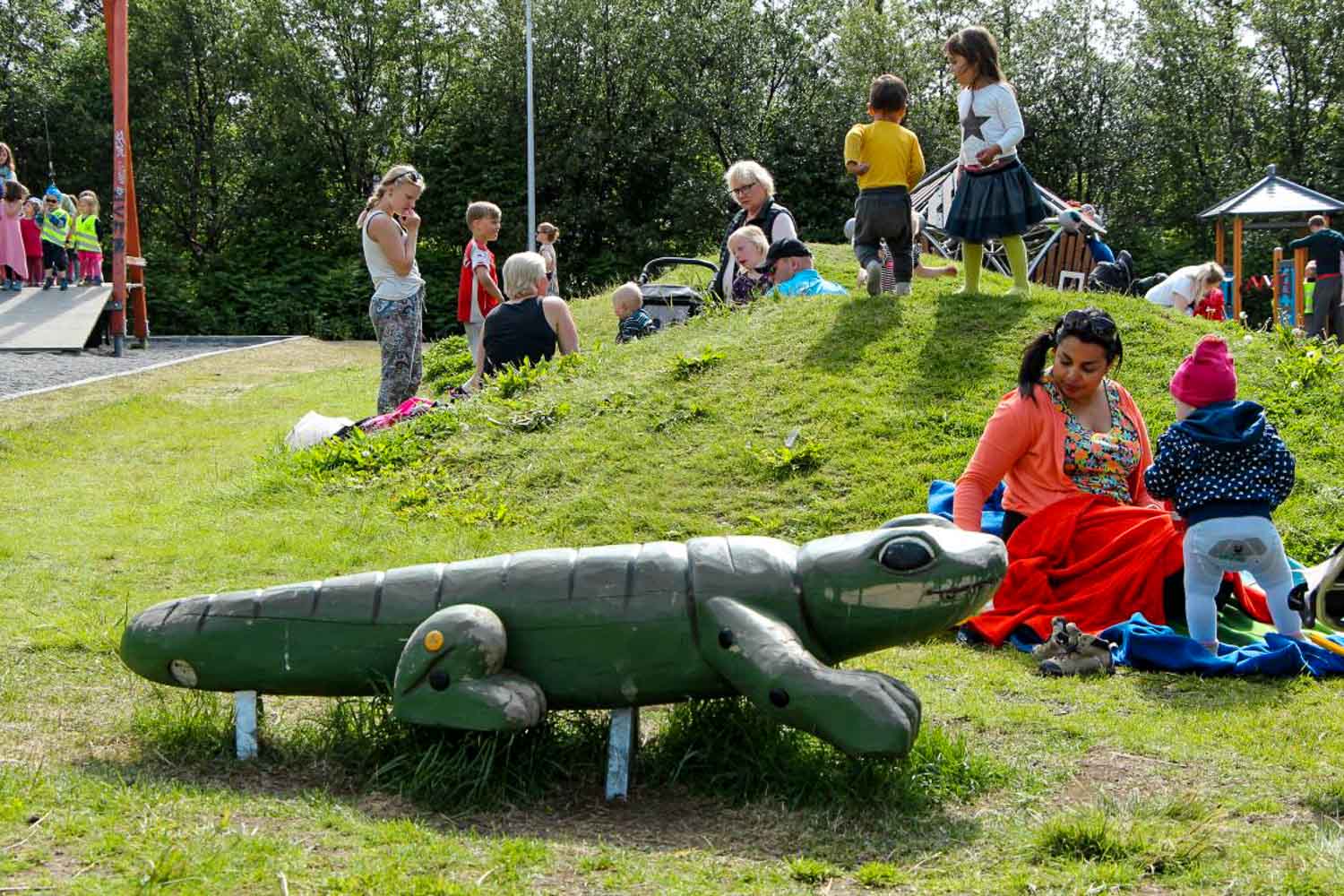 On a sunny day, Klambratún Park is filled with people catching the sun's rays. Previously farmland, the park now hosts a basketball court, a football field and outdoor BBQ facilities. Kjarvalsstaðir Art Museum is also located in the park. The museum exhibits modern paintings and statues as well as the work of Icelandic painter Jóhannes S. Kjarval's works.
The park is located near a few hotels and guesthouses, so if you're staying at 105 Townhouse Hotel or Norðurey Guesthouse, you're midway between the famous Hallgrímskirkja Church and Klambratún Park.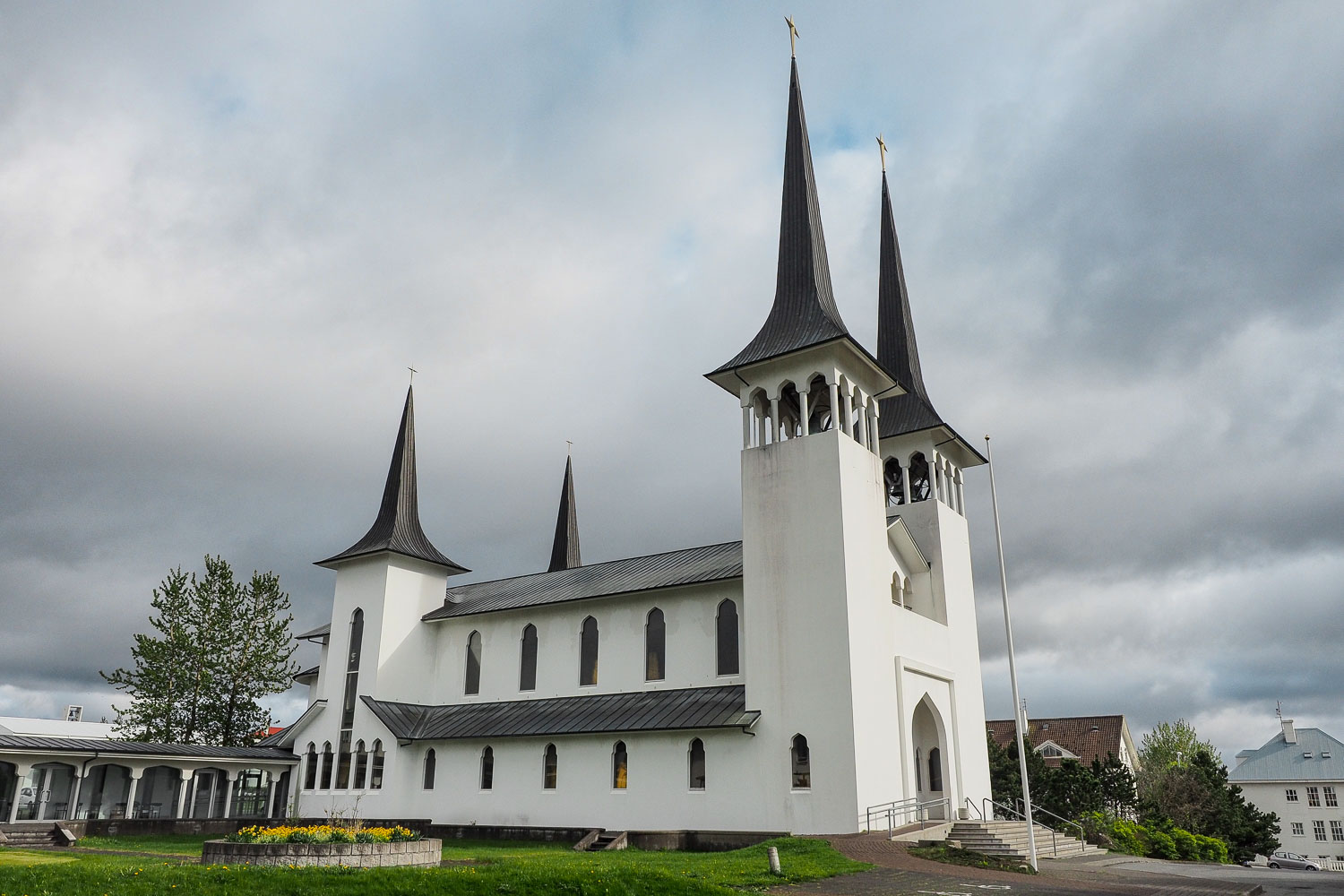 Háteigskirkja is a beautiful Lutheran church with four dark towers. Construction on the church began in 1957 and it opened to the public in 1964. Inside the church you'll find mosaic art pieces. It also hosts occasional concerts.
Hydra floatation spa is one of our favorite Reykjavik's spas and is located in Hlíðar. You can relax and recharge floating in Epsom salts inside a private pod.
Food in Hlíðar
Hlemmur - Mathöll is the first food hall in Reykjavik. Located right by the bus station, the hall hosts various pop-up restaurants that serve international cuisines. You'll find Vietnamese street food, an Italian restaurant and even L.A. style tacos. If you prefer local cuisine, you can find it here too!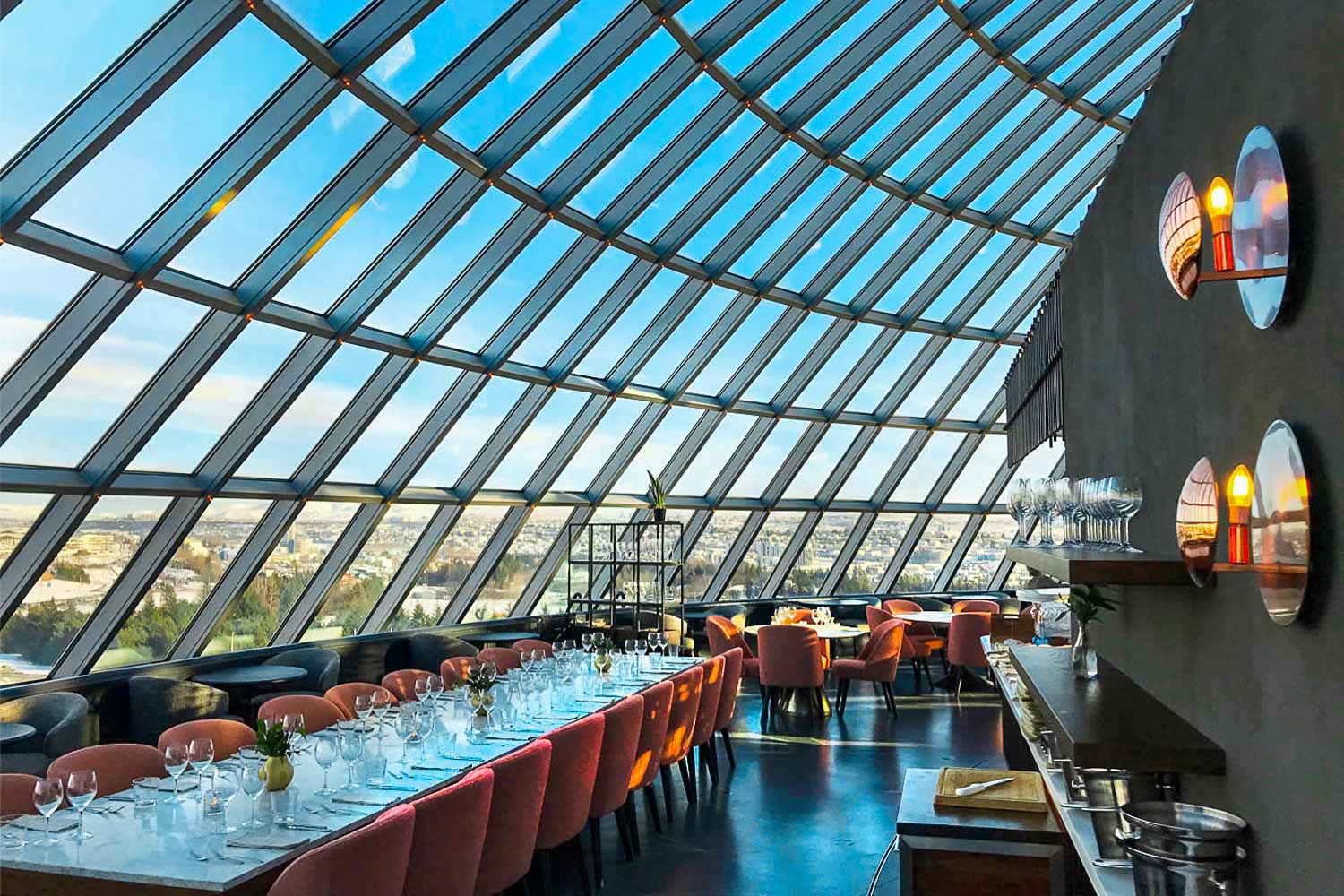 Út í bláinn restaurant is located under the glass dome of Perlan. The restaurant slowly moves in 360-degrees, so you get to enjoy the changing view of the city as you dine.
Nauthóll restaurant is based near the Nauthólsvík geothermal beach. Their menu mostly contains seafood dishes, but they also offer a few vegan options.
Potturinn & Pannan have been serving traditional Icelandic cuisine since 1982. During lunch, the restaurant offers a buffet with soup, salads, fish and meat dishes. Their full menu also includes pizzas and burgers.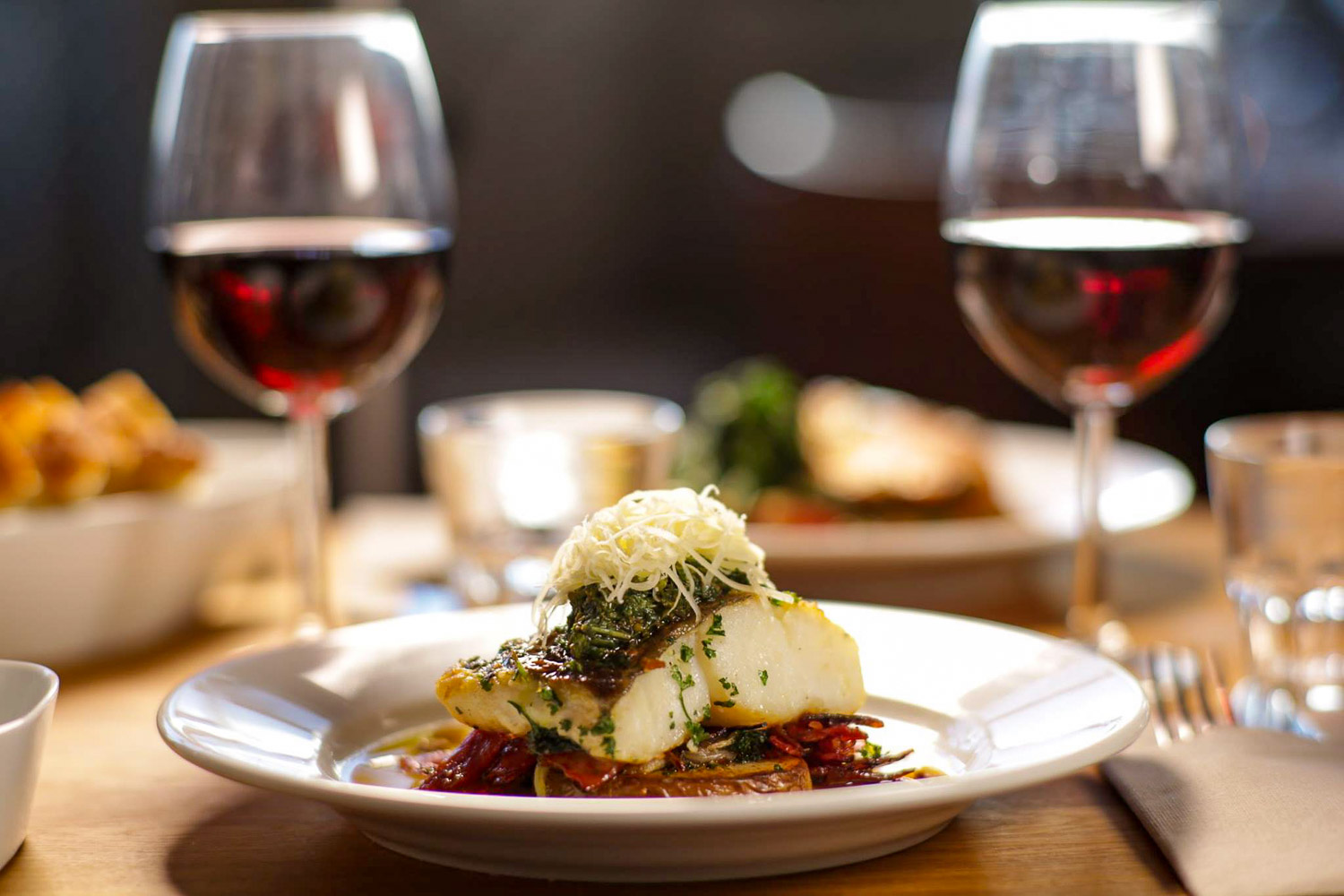 Restó is a cozy family-run seafood restaurant right by Hlemmur. Even if you're not staying in Hlíðar, their cod is worth making a little detour.
Icelandic Hamburger Factory offers a large selection of burgers with funny names. Would you like to bite into Rudolf or have a taste of The Captain? A peanut butter bun burger with jalapeno mayo or a wild goose burger with home-made blueberry jam are also on the menu!
Cafés in Hlíðar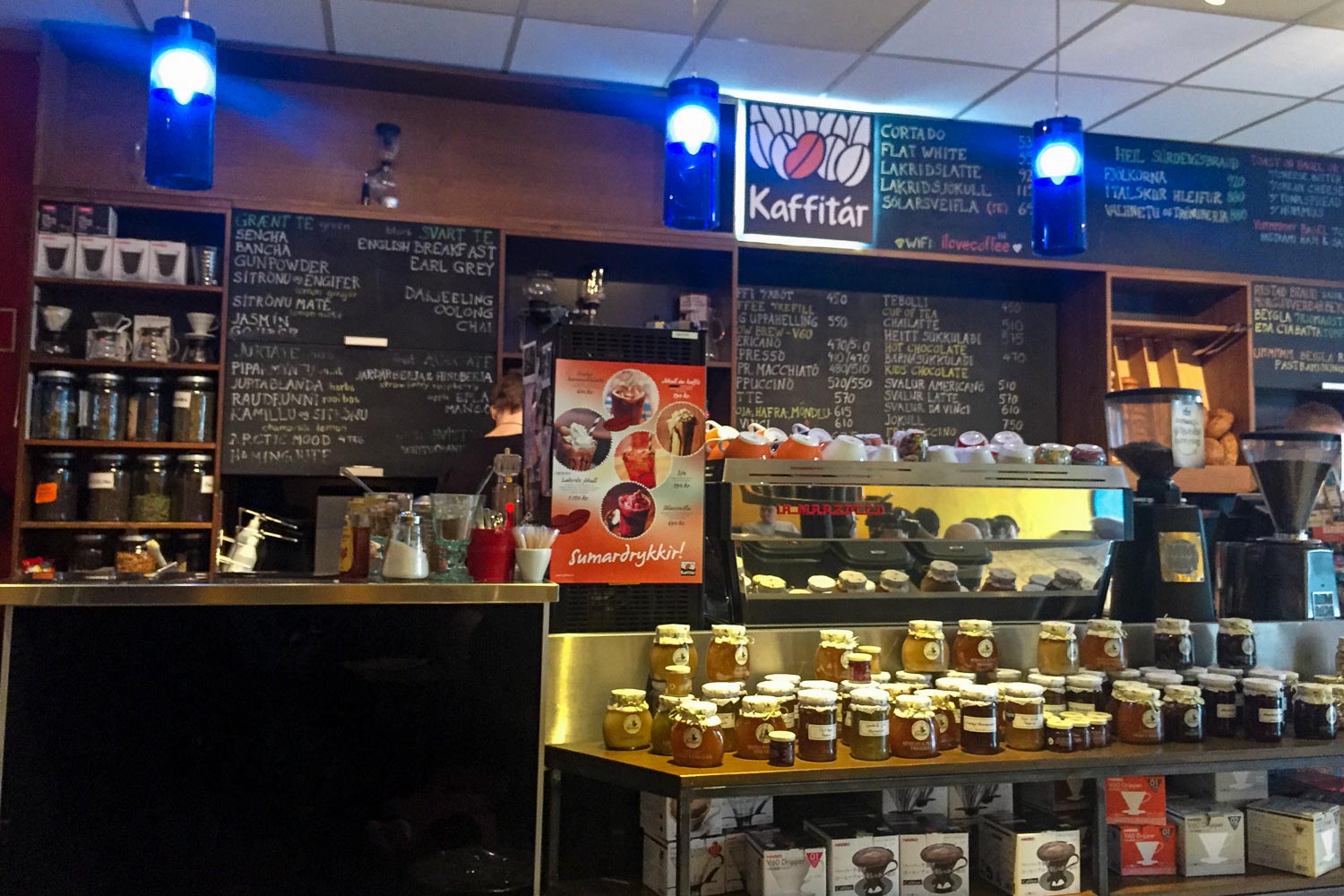 Kaffitár has seven cafés located in Reykjavik and around the city. One of them is located in Borgartún, Reykjavik's business district in Hlíðar. In Iceland, Kaffitár is well known among coffee roasters and drinkers alike. The family-run business serves specialty coffee that is mostly bought directly from farmers in Brazil, Nicaragua and Guatemala.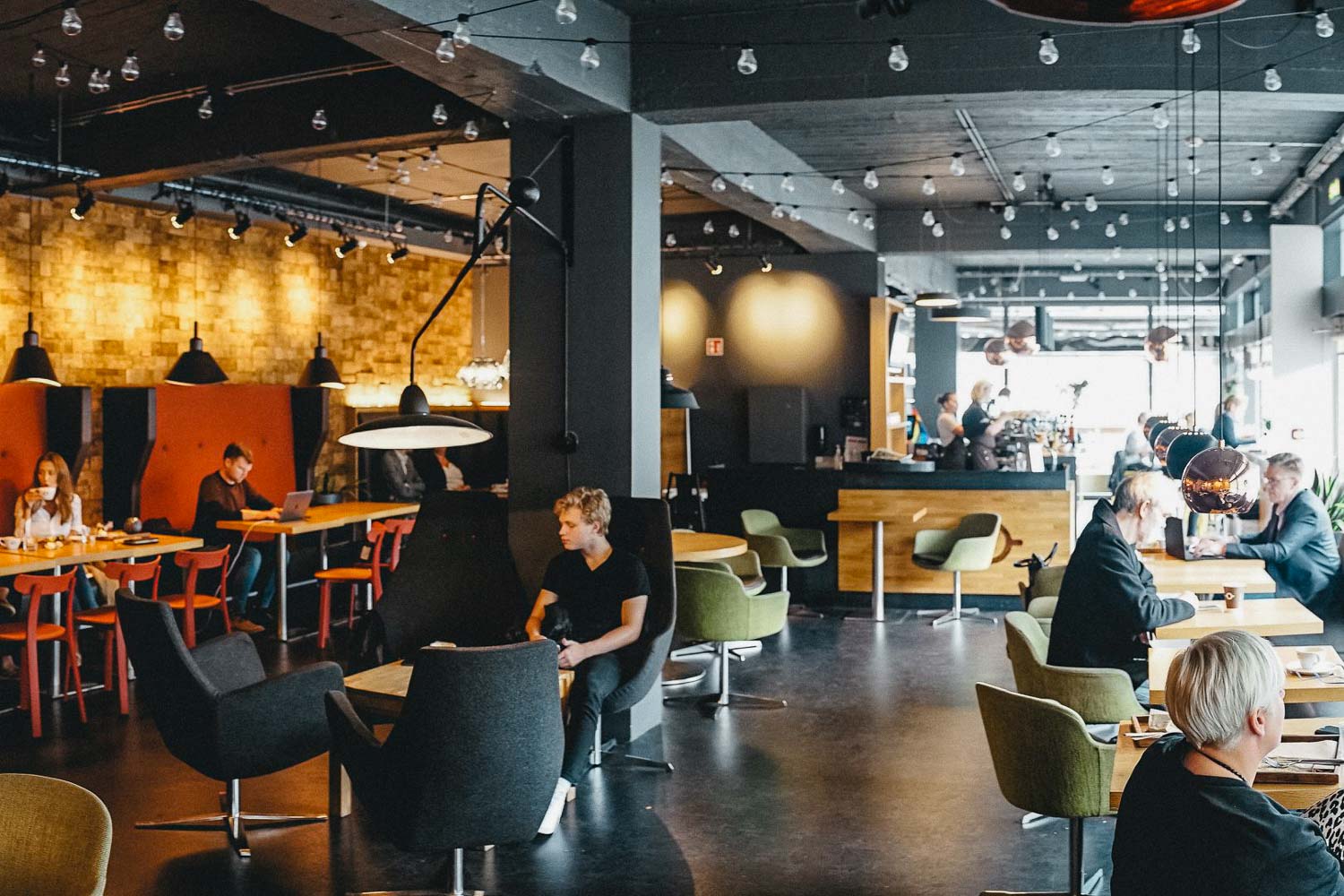 Te & Kaffi shop is also located at Borgartún. You'll find nine Te & Kaffi cafés in and around Reykjavik. Along with specialty coffee and tea, they serve sandwiches, salads and other light bites. Try out one (or all) of their eight different kinds of muffins!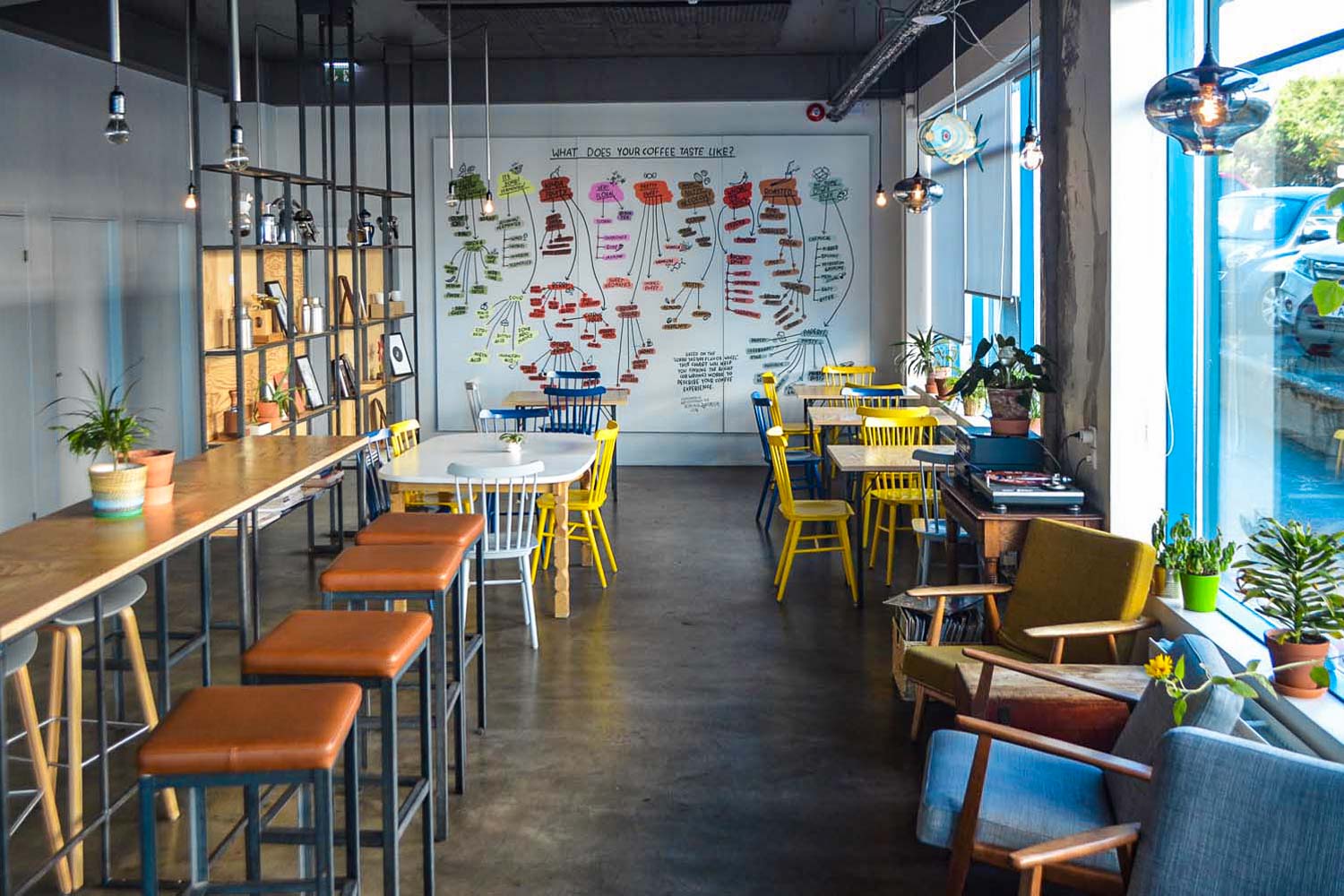 Reykjavik Roasters coffee shop is located on Brautarholt in Hlemmur, inside a place that was once a musical instrument store. The Reykjavik Roasters occasionally host Art Session events. They include art workshops, exhibitions and talks with various artists.
Which neighborhood in Reykjavik is your favorite?